---
EXECUTIVE SUMMARY
In the middle of a presidential campaign, the US will have to grapple with the rise of ISIS, difficult relations with Russia and an increasingly assertive China.
Meanwhile, the EU is caught between several crises including that of migration, Greece's weak economy and Russian aggression in Ukraine. These issues have exacerbated the internal divisions afflicting the Union, which is finding it progressively more difficult to achieve consensus.
Russia's foreign policy adventurism continues as it seeks to ensure its influence in its Near Abroad while also meddling in the Middle East. Meanwhile, the Russian economy remains stagnant.
China's economy is growing, although at a more measured pace. On the other hand, Beijing is slowly coming to terms with its emergence as a truly influential global power.
As the Middle East reels from the effects of a bitter geopolitical rivalry between Saudi Arabia and Iran, ISIS continues to threaten the stability of states in the Arabian Peninsula and North Africa and poses an existential threat to Syria and Iraq.
This forecast will provide insights into these areas and others that we believe will be of interest in 2016.
---
THE UNITED STATES
COMBATTING ISIS
The United States will enter its final twelve months under the Obama administration with a number of prominent challenges on the horizon, none of which are particularly new. These will remain important issues going into the first months of the new Presidency in 2017.
With an established presence in Syria, Iraq, Libya and the Sinai, ISIS will remain a challenge for US policy in the Middle East and North Africa. While Washington will avoid deploying ground forces in any significant form, it will increase the presence of Special Operations forces not only as spotters for airstrikes but also as hunter-killer units to track down high-value targets.
As a result of the increased Russian presence in Syria, the Obama administration will look to enhance its relationship with the Kurds to counterbalance the Kremlin's rising influence in the country. Meanwhile, Washington will also seek to strengthen its ties with the Kurds in Iraq, who Washington perceive as motivated and reliable allies.
Turkey will also be encouraged by Obama to take up a more prominent role in the war against ISIS; this has the potential to further anger the Kremlin after Turkey shot down a Russian Su-24 bomber in November 2015.
The United States will also keep a close eye on Libya, where ISIS established a strong presence in 2015. While ISIS will not be in a position to overrun the country in 2016, Washington must remain wary, particularly given the North African nation's proximity to its southern European allies. The US will push for international backing for airstrikes on ISIS by June 2016, but will look to use drones to launch precision strikes on ISIS should international backing not be forthcoming.
AVOIDING CONFRONTATION WITH THE KREMLIN
Washington will find that Moscow will continue testing the boundaries of their frosty relationship in 2016. In some areas, such as in Ukraine and Syria, the Kremlin will set the agenda as it did 2015, This will force Washington to be reactive, rather than proactive. On the other hand, Obama will need Russian cooperation in order to contain the looming threat posed by ISIS in Libya, and to ensure that Iran adheres to the 2015 nuclear agreement, which limits Tehran's ability to develop nuclear weapons.
In 2016, the United States will look to curtail Russia's influence in areas ranging from Ukraine to Turkey and Syria. However, unless US interests are directly threatened, Washington will not seek to directly challenge or threaten any moves by Moscow to expand its influence in areas in the latter's immediate 'neighbourhood'.
While the United States will continue to support Kiev with small-scale military training and limited political and financial backing, Ukraine is not a core US interest and thus, Washington will resist involving itself too heavily in the conflict. On the other hand, the United States will continue to provide reassurance to its NATO allies in Eastern Europe by pre-positioning military hardware, permanently stationing combat troops in the Baltic States, and periodically conducting military exercises during times of increased tensions.
The relationship between the United States and Russia will continue along its current downward trajectory in 2016, with conditions increasingly resembling that of the Cold War. However, rather than two superpowers vying for global influence, it will be a case of the Kremlin reasserting itself as a regional power and attempting to keep American influence out of areas it considers its sphere of influence – particularly the former Soviet space. Unless Russia threatens NATO allies or other core interests, the US will not push back.
COORDINATED CONTAINMENT OF CHINA
As with Russia, the United States will look to contain China's rise in Asia, particularly in the South and East China Seas. China is a rising global power, who many have insisted will soon rival the US as a global superpower. However, before Beijing is able to challenge the US it will need to dominate Asia, both economically and militarily.
China's economy has been growing at a rate exceeding 7% since 1991. Such expansionary growth is remarkable and has allowed Beijing to spread its influence by investing in countries and industries all over the globe. This has served as the foundation for Chinese power.
Despite Beijing's increasingly assertive regional policies, neighbouring countries have sought to maintain close relations with China in order to benefit from lucrative trading opportunities. However, as the Chinese economy begins to lose steam, the reduction of Chinese demand for its neighbours' exports will take the shine off China as a trade partner, weakening trade ties and raising tricky questions in regional capitals.
It is here that the United States will step in and reinforce its security commitments to its regional allies, particularly Japan and the Philippines. The US will also look to coordinate and engage the region more broadly, capitalising on the fear of a rising superpower and discontent with Beijing's policies. The TPP trade deal is one such example. Fundamentally, Obama's 'pivot' towards Asia has placed more attention on US interests in Asia than has been the case for some time and, while there is unlikely to be any headline-grabbing developments in 2016, developments in this region are of the utmost important for the medium to long term global geopolitical outlook.
EUROPE
MIGRATION: NO LETUP
Migration from conflict zones towards the European Union reached record levels in 2015, with more than a million migrants having crossed by land and sea from countries experiencing conflict and crisis. While the central Mediterranean route originating in Libya was previously the primary route to Europe, it was the eastern Mediterranean that saw the largest numbers of migrants in 2015, most of whom originated from the Middle East and North African region.
With conditions giving rise to instability likely to prevail throughout the MENA region in 2016, the situation will not improve markedly in the coming year. The root causes of migration – conflict in Syria, instability in Afghanistan and political oppression in parts of sub-Saharan Africa – will continue to push people to seek out a better life in Europe.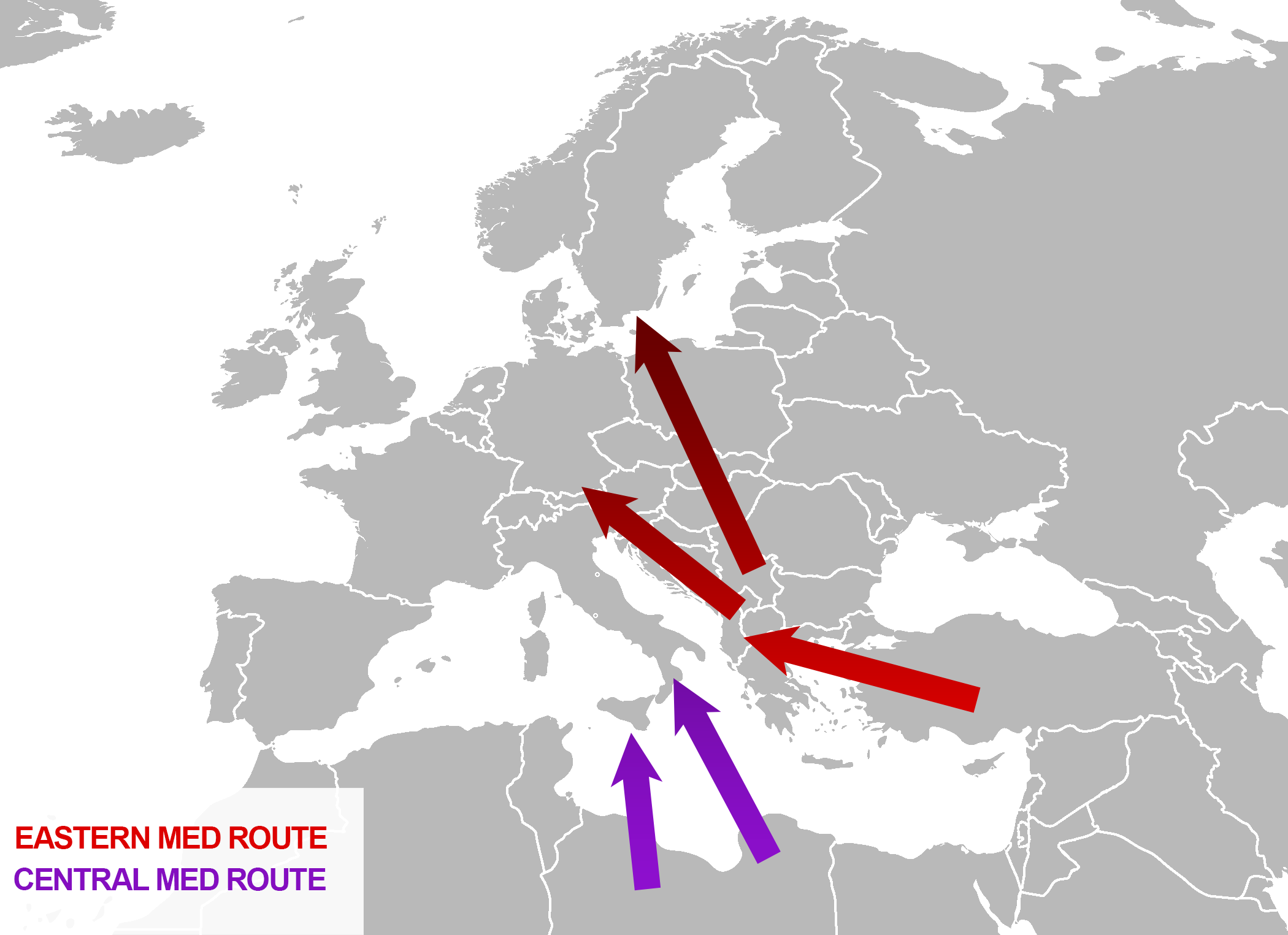 The 2015 Summit on Migration held between the European Union and a number of African nations had proposed several points, such as stemming the flow of migration, easing the return of migrants and financial aid to African states. However, with the deadline to put in place these measures set at the end of 2016, there is little hope that migration to Europe will slow in any conceivable way in the coming year.
A considerable number of migrants will continue to launch from Libyan shores, with a number of smuggling networks prevalent in several areas of the country. While ISIS is not necessarily strapped for cash in 2016, it may seek to tap into the market of smuggling migrants, or harassing smugglers, to fund low-level operations.
150,000 migrants had attempted to cross into Europe through the central Mediterranean route in 2015; it is likely that 2016 will see similar, if not larger numbers. With Turkey having reached an agreement with the European Union in November 2015 to curtail migration through its borders, it will become more difficult for migrants to follow the eastern Mediterranean route in the coming year. A conservative estimate of migrants using the southern Mediterranean route would see last year's number increasing by about one-third, meaning that upwards of 200,000 people could arrive on the shores of central Mediterranean countries this year. The majority of these migrants will look to depart from the shores of Libya, putting further strain on both southern European nations and the varied Libyan authorities while strengthening and enriching people-smuggling rings in Libya.
DISCONTENT IN GREECE
Greece's problems are likely to continue in 2016, although its issues will take on a different hue.
Domestically, Greece's political class will find itself under continued pressure from ordinary Greeks, who had thought that electing Syriza would strengthen Athens' negotiating position with Brussels – it did not. With 2015 having been characterised by debates on economic and financial issues – as well as political turmoil over negotiations with Brussels – Athens will face increasing pressure from its citizens in the coming year as the reality of what was agreed in 2015 begins to set in. As a result, expect PM Alexis Tsipras to try to ingratiate himself with his citizens by continuing to chide his European counterparts in Brussels.
However, behind closed doors, Tsipras' government will seek to repair relations with his European counterparts in an attempt to earn some concessions in the medium-term.
The economic and financial problems faced by Greece will continue to have repercussions on the European project. Large southern European countries such as Greece, Italy, and Spain will face continued economic hardship in 2016; their inability to use monetary policy to devalue their currency, and therefore make their exports more competitive, will exacerbate this.
The manner in which Brussels handled the Greek crisis was followed closely in Southern Europe, particularly in Italy, which has a debt-to-GDP ratio of 132%. This will remain a concern for officials in Brussels in the coming year; a crisis of the Greek kind in Italy would fundamentally threaten the entire Eurozone.
Rome and Athens are likely to continue to push their respective cases in Brussels throughout 2016 while also fostering a closer working relationship even if their personal styles differ.
UKRAINE: A FROZEN CONFLICT
The war in Ukraine has come to represent the greatest geopolitical challenge that the European Union has ever faced. These challenges are numerous, and will not be resolved in 2016.
The European Union has sought to bring Ukraine into its orbit as part of its expansion, however, this has run into stiff resistance from Russia, which views Ukraine as a key element within its sphere of influence. The EU has no such attachment to Ukraine – it is not central to the future of the European project. Nevertheless, Brussels will find it difficult to balance its ambitious ideals of encouraging states to join the Union with the geopolitical reality that Moscow is prepared to bring its political, economic and military influence to bear on both Kiev and Brussels. The EU will continue to encourage Ukraine to make the necessary reforms to join the Union, but Kiev will find it difficult to focus on implementing reforms while its attention continues to be drawn towards the low-intensity conflict in south-east Ukraine.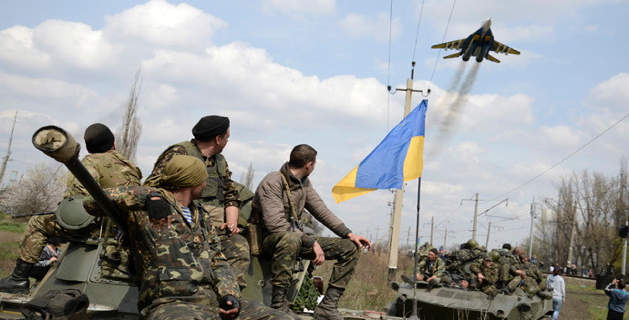 The conflict in Ukraine will continue throughout 2016 although its intensity is unlikely to be as high as in 2015. Further diplomatic negotiations between the European Union and Russia can be expected, in order to help bolster the second Minsk agreement signed at the beginning of 2015, although these negotiations are unlikely to bear any real fruit.
Finally, there are a number of European Union members, not least Germany, facing powerful opposition from pro-business and pro-Russian lobbies within their capitals. These interests, along with the rise of far left and far right throughout the Continent, will complicate the EU's efforts to maintain a unified front and retain Ukraine-related sanctions against Russia. Expect intensive talks between Russia and the EU, followed by further talks between the EU and Ukraine in mid-2016. Moscow is likely to start a charm offensive aimed at lifting the sanctions imposed on it, which are due to expire on July 31.
However, unless there is a significant improvement in the situation on the ground in Ukraine in early 2016 (which is unlikely) sanctions against Russia are likely to be extended through to the end of 2016. Expect posturing from the Kremlin and pro-Russian interests in Europe in the second quarter of the year.
THE FUTURE OF THE EUROPEAN UNION
Along with security problems on its periphery, and economic issues in the south, Europe has also seen the rise of Eurosceptic and nationalist parties, which will continue to make their mark on the social and political scene in 2016. Countries such as the UK, Poland and Hungary already have governments that are seeking to distance themselves from Brussels. With Germany and France – the two core Continental powers – holding elections in 2017, the next twelve months will be crucial.
The rise of nationalist parties in Europe will cause considerable upheaval although the main political threats to the European project primarily stem from two areas: the UK referendum on EU membership, and the rise of Eurosceptic parties, particularly in France. These developments are underpinned by a deep sense of disagreement over the future direction of the European project.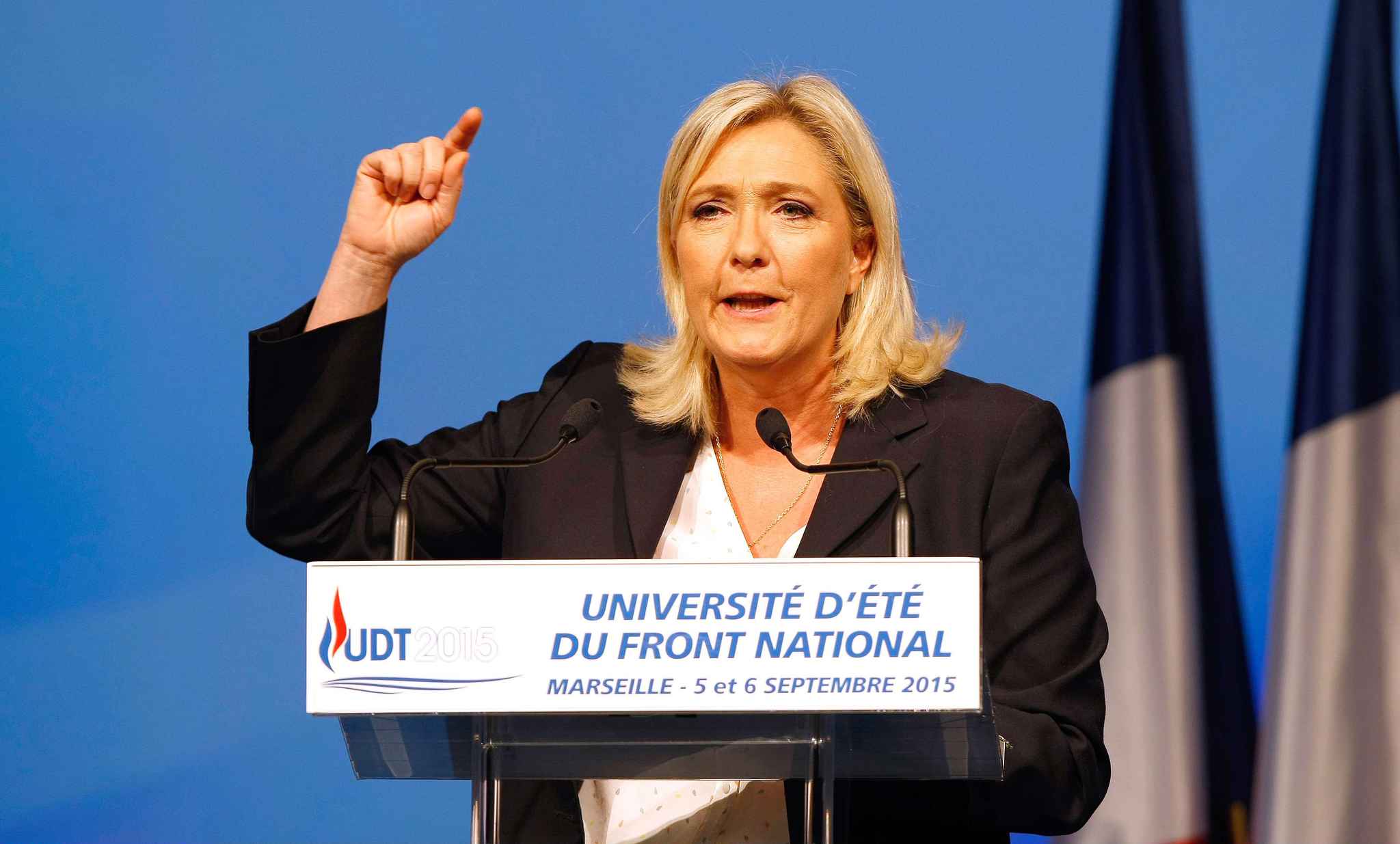 The UK's referendum on EU membership promises to cause some discomfort in Brussels, although if British PM David Cameron manages to extract key concessions on social benefits and the free movement of people in the Union, it is likely that he will advocate for the UK's continued membership. Brussels will look to compromise, but will continue to rule out the possibility of any EU treaty changes to do so. The line will be found somewhere in the middle, likely ensuring the UK's continued membership by early 2017.
France and Germany both find their governing parties under siege from nationalist forces, although President Hollande's deep unpopularity with many French voters puts him in a substantially weaker position than German Chancellor Angela Merkel. Marine Le Pen's right-wing National Front will continue to make political inroads, capitalising on a weak French economy and the influx of migrants. Chancellor Merkel will continue to hold off challenges from within her party, the Christian Democratic Union, but will find it increasingly difficult to appease her detractors, both from within and from outside of her party throughout the coming year.
One area that will be critical for the future direction of the European Union is whether France's desire for closer continental economic integration outweighs Germany's push for slower convergence of economic and financial rules. The relationship between Paris and Berlin may start to show some strain if a common vision for the Eurozone is not found. Should, against all odds, the UK leave the EU, Germany and France will find that an important interlocutor has been lost, which will, in turn, add further strain to their relationship and the future of the Eurozone.
THE ASIA PACIFIC
The dispute between China and its southern neighbours in the South China Sea intensified in 2015.
Beijing's increasingly assertive policies toward the strategic maritime area, through which 40% of global trade passes, included more coast guard patrols and substantial land reclamation projects on shoals and reefs in disputed waters. Such activities have been viewed with suspicion in Washington and the region, culminating in the October 2015 Freedom of Navigation Operation in which a US cruiser sailed within the 12 nautical mile zone of an artificially built feature of the disputed Spratly Islands.
The Operation followed a series of showdowns between Chinese authorities and regional countries in the South China Sea. These included the expulsion of two Philippine vessels from the Spratly Islands by the Chinese coast guard, as well as confrontations between the Vietnamese navy and Chinese vessels in an area where China had been setting up an oil rig. While these confrontations did not result in an outbreak of violence, they strained relations between regional powers and China, with concern being expressed in ASEAN and other multilateral regional forums
In 2016, the US will continue to lead opposition to Chinese activities in the South China Sea. Part of this opposition will include conducting further freedom of navigation operations while encouraging others, such as Australia, to increase military patrols in the disputed waters. However, more significantly, Washington will push for more regional cooperation to counter Beijing's South China Sea policy. The Philippines, Vietnam and, to a lesser extent, Japan will be at the vanguard of Washington's drive to mobilise this regional response.
Evidence of this has already begun to surface. Signed in 2014, the Philippines-US Enhanced Defence Cooperation Agreement will allow the US to maintain a more robust military presence in the archipelago. Meanwhile, the lifting of an arms embargo on Vietnam was quickly followed by a US pledge to provide the country with $18m worth of naval patrol boats.
2016 will also see efforts to implement the Trans-Pacific Partnership (TPP), a trade deal that involves Japan, Brunei, Malaysia and Vietnam – all of which are parties to the South China Sea dispute. (While the TPP was signed in late 2015 it is yet to be implemented as law by many states, a final step which will make the treaty binding.) The trade deal is increasingly seen in a security context, with its implementation a signal that Washington is serious about its 'pivot to Asia', together with its intention to develop and coordinate closer ties among regional allies in the face of Chinese expansionism.
Another development expected in the coming year will be the initial findings of the Permanent Court of Arbitration in a case brought by the Philippines against China's South China Sea claims under the United Nations Convention on the Law of the Sea (UNCLOS). While the decision will not be conclusive, (Beijing has already indicated it will not recognise the outcome of the proceedings), it will play an important role in developing international norms of behaviour. The outcome of the arbitration will signal to regional and global powers the legal and normative acceptability of Chinese policies and could provide a foundation on which regional countries could base their responses to further Chinese assertiveness in the contested space. China's response to any decisions emanating from The Hague will also be an important indicator of Beijing's policy in the South China Sea in 2016 and beyond.
THE FORMER SOVIET UNION
In 2016 the Russian economy is expected to contract by 0.7%, an improvement on the 3.7% contraction experienced in 2015. Nonetheless, the Russian economy will remain subdued amid low commodity prices and Western-imposed economic sanctions.
The main developments in Russia's Near Abroad will be increased tensions in Central Asia due the expansion of the Eurasian Economic Union ('EEU') and a rising terrorist threat emanating out of Afghanistan.
The conflict in eastern Ukraine will continue to simmer without erupting, as will the stalemate in Nagorno-Karabakh.
Major possible disruptors in the former Soviet Union include a coloured revolution in Armenia, spillover of the Afghan war into Tajikistan, or Turkey closing the Dardanelles to Russian shipping, a development that would have serious economic repercussions for Russia. Although these events are unlikely, they have the potential to be game-changers and are therefore important areas to watch for any possible movement.
TENSION IN CENTRAL ASIA & THE CAUCASUS
The EEU will continue on its path to incorporate Kyrgyzstan in 2016. However, this development, along with the membership of Kazakhstan and Kyrgyzstan, has ostracised Tajikistan and Uzbekistan, which have poor relations with the current members of the Union.
Tajikistan, the poorest of the former Soviet states, faces the highest risk of economic and political instability in 2016. With an underdeveloped economy and a poor population that is heavily dependent on remittances, the country is particularly vulnerable to the economic troubles that have afflicted Russia, where most Tajik migrant labourers work.
The threat of the Afghan conflict spilling over into Tajikistan adds to the precarious situation in the country. Should ISIS in Afghanistan manage to seize the main smuggling routes through Tajikistan or seize more ground close to the Tajik border, the situation in the Muslim-majority country may become unstable. If Tajikistan experiences an increase in Islamic extremist groups operating in or near to its borders, the effect on the highly connected Central Asian states would be disastrous.
The relationship between Armenia – another EEU member – and Azerbaijan will continue to be troubled by hostility in 2016 as the two neighbours continue their long-running dispute over Nagorno-Karabakh. Both countries maintain friendly ties with Russia, which has often stepped in to mediate ceasefires and to calm tensions in Yerevan and Baku. This will occur again in 2016 as the Kremlin seeks to reduce tensions following the outbreak of violence in Nagorno-Karabakh in 2015. The status quo in the southern Caucasus will therefore remain.
However, in the unlikely event of a colour revolution in Armenia, the situation will become unpredictable. Such a movement would prove disastrous for the country and the region and likely result in yet another frozen conflict in the former Soviet space, similar to that in eastern Ukraine.
RUSSIA'S STAGNATING ECONOMY
Although economic growth will remain negative in the coming year, the Russian economy will stabilise. The defence sector will continue to prosper, as orders from existing customers are confirmed, owing to the fact that Russian military technology is among the world's most advanced.
As robust subsidiaries and Russian-imposed sanctions on agricultural exports begin to bite, Russia's agricultural sector will also see growth.
Despite the growth in these key sectors, the outlook for the economy as a whole is bleak, as structural problems continue to hinder growth. The economy contracted 3.7% in 2015, a result of the combination of low commodity prices and economic sanctions. Although the economic outlook remains poor, it will begin to stabilise in 2016.
The Russian government may consider expanding arrangements similar to the Belarusian "Free Economic Zones" with other countries in the former Soviet space in a bid to attract long-term investment. For the Kremlin this type of arrangement strikes an appealing balance, allowing for more capital inflows while retaining control over the size and identity of the actors entering the economy.
However, Russia's partners in the Union will begin to diversify their trade away from Russia in 2016 as they attempt to insulate themselves from the spillover effects of the Russian recession.
RUSSIA & UKRAINE: MAINTAINING THE STATUS QUO
The conflict in Ukraine will continue into its second year in 2016 as the War in Donbass continues. Due to the separatists' access to superior Russian military technology and manpower, it is unlikely that the Ukrainian Armed Forces will make any substantial progress in conquering rebel-held areas in the south-east of the country. The war will continue along its seasonal patterns, with fighting at its peak in mid-winter, and mid-summer, and trailing off at the beginning of March and end of August.
Any political compromise or deal is unlikely, as both sides remain resolute to not give up any territory. Should the Kremlin feel confident that it has seen off any potential movement in Ukraine for NATO membership, a political compromise would be possible in the medium term. However, Russia will be reluctant to back down from supporting the separatists in the coming year given that it will damage their image as defendants of ethnic Russians and as reliable allies. However, given the fact the Kremlin is close to strategic overreach in Ukraine (making any rebel offensive unlikely), Kiev might decide that it is time to regain control of its borders.
THE KREMLIN'S EUROPEAN CHARM OFFENSIVE
Due to the damage to Russia's reputation in Europe after the annexation of Crimea, attempts will be made to improve European sentiment towards Moscow in the coming year. This will take the form of a subtle public relations campaign highlighting a softer, less menacing Russia.
Russian involvement in the Syrian conflict and its role in airstrikes against both ISIS and other opposition groups will be at the forefront of engagement between European and Russian leaders. Cooperation with European nations is likely to be on Moscow's agenda in 2016. France, in particular, will be sought out as a partner in the fight against terrorism, a move motivated by the fact that both countries experienced major terrorist attacks in the second half of 2015.
With public perceptions in both France and Russia remaining rather positive towards one another, increased cooperation, even if only on a superficial political level, is likely.
THE MIDDLE EAST AND NORTH AFRICA
SAUDI IRANIAN RIVALRY FEEDS PROXY WARS
While ISIS' exploits in the Middle East have captured the world's attention, it is the geopolitical rivalry between Saudi Arabia and Iran that will drive major regional developments in 2016. Proxy wars in Syria and Yemen have been fuelled by the two regional powers, which have provided military, logistical and financial assistance to a number of groups on the ground. These conflicts have weakened state structures and contributed to conditions in which militant groups have been able to entrench themselves and further destabilise the region. Although the specifics vary in each conflict, the sway held by Saudi Arabia and Iran will be key to the outcome of regional conflicts in Syria, Yemen, and to a lesser extent Iraq.
2016 will not see an improvement in Saudi-Iranian relations. The strained relationship publicly ruptured in early January 2016 after Saudi authorities executed a prominent Shi'a cleric – a move that sparked angry protests in Tehran, resulting in the storming of the Saudi embassy. This break in diplomatic ties is a symptom of a relationship that has deteriorated significantly in the past few years, primarily as a result of the proxy war in Syria.
Warming relations between the West and Iran – symbolised by the Iran nuclear deal – have also exacerbated tensions between the regional powers. GCC leaders have grown anxious over a perceived about-face by Washington and have begun to question the once steadfast support of their North American ally. As a result, the Sunni Gulf monarchies have pursued more assertive and independent regional policies, highlighted by their campaign to push Houthi rebels out of power in Yemen.
Ultimately, although regional and international coordination may be possible on some limited issues, the trend of worsening relations between the two regional heavyweights will continue well into 2016, an ominous sign for Middle Eastern conflicts.
SYRIA: THE REGIME SEES OUT ANOTHER YEAR
The rise of ISIS has universally undermined regional security. In 2015, the group and its affiliates routinely attacked targets beyond its primary theatre of operations in Iraq and Syria. Notably, ISIS struck politically sensitive sites in both Turkey and Saudi Arabia – two regional powers that have been accused of supporting the extremist group.
These two countries, along with Iran, Russia and a coalition of Western states have been engaged in airstrikes and ground operations against ISIS, creating a rare instance of agreement and alignment of interests in the Middle East. This common enemy presents a limited opportunity to cooperate on the narrow basis of combating ISIS. In late 2015, UN Security Council Resolution 2249 signalled this possibility by highlighting the fight against terrorism as a common interest for all countries.
However, both Russia and the US are wary of deeper involvement in Syria, having both been stung by previous military engagements in the Islamic world. Therefore, it is likely that the two global powers will seek to broker a ceasefire of sorts between their respective allies in Tehran and Riyadh, freezing the conflict temporarily to focus on defeating ISIS.
While the geopolitical rivalry between Iran and Saudi Arabia may not block tacit cooperation on points of mutual interest such as combating ISIS (particularly when external pressure is applied), it will prove an insurmountable challenge to a broader agreement, at least in 2016. Therefore, although cooperation against ISIS could prove to be a valuable confidence-building measure between the Saudis and Iranians, the stark polarisation on almost all other issues – particularly on the future of Bashar al-Assad – means that there is little chance for a long-term agreement on substantive political issues. As such, Assad's embattled regime will remain in Damascus through 2016.
ISIS LOSES GROUND IN IRAQ
In the coming year, developments in Iraq will centre on the effort to rid the country of ISIS. The extremist group lost substantial territory in 2015, including strongholds in Tikrit and Ramadi. This trend looks set to continue in 2016 as Iraqi security forces push to re-establish control of the country, particularly in Iraq's second-largest city, Mosul, which remains under ISIS control.
However, while it is unlikely ISIS will make any real gains in Iraq, the long-term structural and sectarian difficulties facing Baghdad and the doggedness of ISIS' resistance means the process will be slow.
These factors mean that ISIS will not be completely expelled from Iraq in 2016
The weakness of Iraq's security forces in the face of ISIS' onslaught has been a factor in the group's rapid rise. Although Western advisers have been deployed to help train and equip the Iraqi military, it is still far from an effective fighting force. This has opened the door for other groups to play a role in military operations on the ground, particularly Kurdish and Shi'a militias. Baghdad's over-reliance on these Shi'a militias poses the greatest challenge to Iraq's long-term survival.
Many Shi'a militias are funded, influenced and coordinated by Iran, as evidenced by sightings of the commander of Iran's Quds Force, General Qasem Soleimani, on Iraqi battlefields. The effectiveness of these forces in fighting ISIS has given Iraq's powerful Shi'a neighbour significant leverage in Baghdad. This, in turn, has exacerbated already strained tensions between the minority Sunni population and the majority Shi'a, particularly after allegations that Shi'a militias engaged in extra-judicial killings against Sunnis during the recapture of Tikrit.
Although Prime Minister Abadi has adopted a more inclusive approach to governance than his predecessor Nouri al-Maliki – allowing Sunni tribesman to take part in the recapture of Ramadi, for example – the festering sectarian wounds inflicted by the former administration endure. These issues will continue to undermine and challenge the cohesiveness of the Iraqi state and will remain deeply entrenched throughout 2016, although a return to the civil war-like conditions of 2006-7 is unlikely.
Significantly, even in the unlikely event that security forces succeed in expelling ISIS from Iraq, the group's enduring presence in neighbouring Syria will continue to pose a direct threat to Iraqi security. In this sense, the fight against ISIS in Iraq is both inextricably and geographically linked to the group's fortunes in Syria, particularly as the border between the two countries is virtually non-existent in its present state. Therefore, the two conflicts require a coordinated response, something that is highly unlikely given the current regional climate.
SAUDI STRATEGIC OVERREACH IN YEMEN
Saudi Arabia's war in Yemen is indicative of the newfound assertiveness in the Kingdom's foreign policy. Riyadh and its GCC partners have justified the conflict as a mission to restore the government of President Abbed Rabbo Mansour Hadi, who was ousted by Houthi rebels in early 2015. This more muscular approach appears to have led to Saudi strategic overreach in Yemen, with Riyadh finding itself increasingly drawn into a complex conflict with no quick or easy resolution.
Although Saudi Arabia and its GCC allies insist the Houthis are Iranian proxies, the degree of control Tehran actually wields over the rebel group has been exaggerated. The Houthis have received financial and military support from Iran, but that has not resulted in Tehran exerting direct influence over the rebel group, a reality highlighted in 2014 when Iranian leaders called on the Houthis not to enter the capital city of Sana'a only to find their request ignored.
In 2016, the war in Yemen will continue to drain Saudi resources, as well as the monarchies' domestic political capital. This will be exacerbated if the Saudi casualty rate continues to climb. If this happens, Riyadh is likely to double down on its efforts in Yemen, being further drawn into the difficult conflict and diverting attention and resources from other regional hotspots. However, as the war is mainly conducted by way of airstrikes and mercenary forces, and with only a small number of Saudi troops on the ground, the likelihood of the Kingdom suffering large losses is small.
Ultimately, the continuation of the conflict in 2016 will result in a stalemate that will pin down Saudi Arabia and produce a worsening humanitarian situation but result in little in the way of a regional power shift or political solution within Yemen itself.
As a poor country with a young population who have lived with conflict for many years, Yemen has long been a hotbed for extremist Islamic militants and is home to a sizeable contingent of forces loyal to al Qaeda. The worsening situation in Yemen will exacerbate this problem, driving young men to extremism and into the ranks of extremist organisations. As a powerful and expansive regional actor, ISIS will seek to capitalise on this and increase its presence in Yemen in 2016.
AN UNPOPULAR PEACE IN LIBYA
A peace agreement signed in December 2015 does not appear to have the support on the ground that the UN Security Council and international community would like to believe. The signed unity deal appears to be positive at first glance, but once several aspects of the deal are analysed, the chances of an enduring solution to the country's problems begin to look rather unlikely.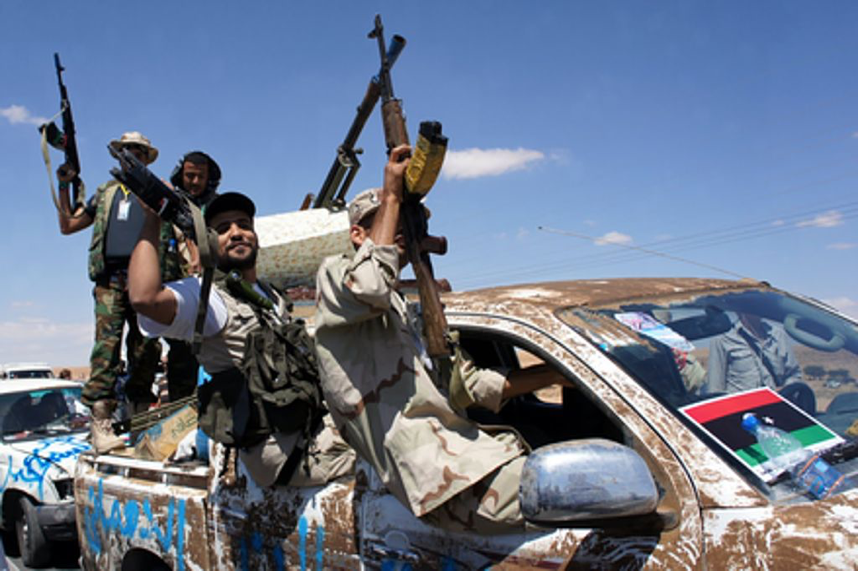 The deal was signed by only 88 of 200 parliamentarians from the Tobruk and Tripoli governments and was opposed by the heads of the internationally recognised parliament in Tobruk (who voted against the new unity government on January 25, 2016) and the rebel-backed authority based in Tripoli. The unity government deal was signed by the deputy speaker and second deputy speaker respectively. It had been criticised by the speakers of both parliaments, which casts significant doubt over the legitimacy of the peace agreement.
The agreement would establish a nine-member council representing various Libyan factions and regions, and aimed at bringing together the various conflicting views and groups within the country. However, while signing the agreement was a positive development in its own right, its implementation will prove to be far more challenging than the UN Security Council is willing to admit. General Hifter, previously the Tobruk government's military man, was given the role of the unity government's military leader. However, he will be unable to expand the writ of the unity government beyond much of eastern Libya. With ISIS firmly entrenched in areas such as Sirte, and Derna, Hifter will likely receive weapons and training from the West. However, without significant air support from Western powers, this alone will not prove to be enough to erode ISIS capabilities, or indeed, its territory.
Western airstrikes in Libya will not materialise in the first half of 2016. Rather, the international community will give the UN-backed government time to find its feet. The new Libyan unity government may ask for support should ISIS begin to expand its territory considerably, a likely development. Any airstrikes from the Western powers are likely to complicate the situation even further – with the various groups with different backers fighting over key areas, with no side strong enough to emerge victorious.
On the other side, ISIS has gained a vital foothold in Libya, where its presence has expanded in the past twelve months and will continue to do so in 2016.
Taken at face value, the power-sharing agreement signed in Morocco in December between the rival governments in Tobruk and Tripoli should pose a threat to ISIS in the country. In fact, the opposite is true. The Morocco agreement will not create a cohesive Libyan government that will be able to overcome its internal disagreements sufficiently to pose an existential threat to the Libyan branch of ISIS. In turn, ISIS will capitalise on the weakness of the Libyan state to consolidate its control over areas such as Sirte, while seeking to expand towards oil pipelines and infrastructure in central Libya. The capture of such facilities would hasten Western intervention, particularly from a naval standpoint, which would seek to disrupt any attempt by ISIS to ship its illicit oil by sea
ISIS will use the first months of 2016 to evaluate the strength of the new unity government, and will quickly conclude it will be in a position to exploit instability arising out of infighting or a Western intervention, which will occur later in the year. With various factions opposed to the UN-backed agreement, there is a considerable chance that ISIS will attract more local recruits, which would provide a steady supply of locally-sourced fighters
ANKARA LOOKS TO SHAPE OUTCOMES ON ITS SOUTHERN BORDER
While Turkey has been vocal in its opposition to the Assad regime, preventing the spread of Kurdish influence in northern Syria, whilst also confronting ISIS, will primarily drive Ankara's Syria policy in 2016. To this end, Turkey will take a more assertive stance on the Syrian conflict, possibly resulting in a limited intervention along its southern border.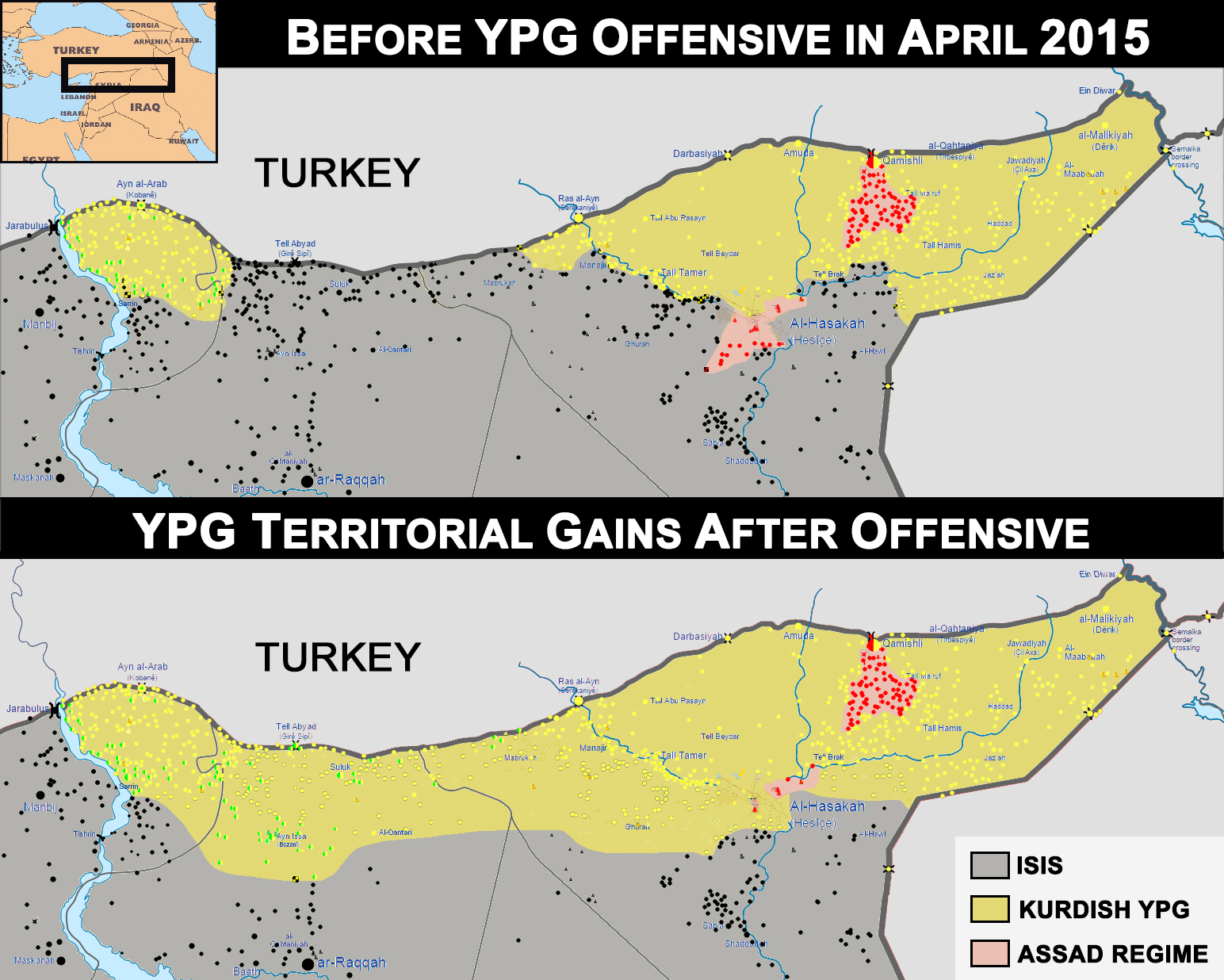 The Turkish government's long-standing dispute with the Kurdistan Workers' Party (PKK) was reignited in July 2015 after a two-year ceasefire. Tensions between the PKK and Turkey have been on the rise as the Democratic Union Party (PYD) – the Syrian Kurdish political party that controls the powerful Kurdish People's Defence Units (YPG) militia – have been gaining territory and influence in northern Syria. The rise of the PYD on the Syrian side of the border has been viewed with deep suspicion by Turkey, as it fears increased collaboration and weapon transfers to the PKK. To offset any such domino effect Ankara attacked YPG positions numerous times in 2015, a tactic that is likely to continue in 2016 as Turkey seeks to forestall increased Kurdish autonomy on its border.
Turkey's national security has also been threatened by ISIS, which is suspected of conducting multiple attacks on Turkish soil in 2015 and one in early 2016. ISIS also controls territory on the Syrian side of the Turkish border, abutting Kurdish-controlled territory to its east and west.
For months, Turkey has been trying to garner political support to combat these two threats by increasing military action in northern Syria. Ankara has sought the backing of both the United States and Europe, with the Turks attempting to leverage its control over the flow of migrants in return for action in Syria. Such support has not been forthcoming.
Nevertheless, Turkey has attempted to maintain a de facto no-fly zone over its southern border with Syria, a sign of just how serious Ankara is about shaping outcomes on its southern border. This policy is likely to have contributed to the downing of the Russian jet in November 2015.
In 2016, Turkey may seek to go even further and commit to a limited ground incursion into areas of northern Syria, currently held by ISIS but under threat from an expanding YPG. Such a move would both weaken ISIS and limit the expansion of Kurdish territory in Syria. It would also create a 'safe zone' in northern Syria, within which refugee camps could be set up, limiting the flow of migrants into Turkey. With an estimated 1 million Syrian refugees already in Turkey, such a move would be domestically popular. Meanwhile limiting the flow of refugees through Turkey would also address some of the concerns of European countries, which collectively received more than a million Syrians in 2015, most of whom transited through Turkey.
Additionally, a Turkish-controlled buffer zone in northern Syria could be used as a staging area to intensify support for Ankara's favoured Syrian opposition groups, such as the Free Syrian Army. This is likely to become particularly important, as these groups have come under sustained pressure in Idlib and Aleppo since the commencement of Russian airstrikes.
However, Turkey will now find it more difficult to operate in northern Syria, particularly after it shot down a Russian jet in late 2015, a move that was met with an increased presence of Russian air assets in support of the Assad regime in northern Syria. Given Turkey's pervasive anti-Assad policies, any further move into northern Syria is likely to face staunch resistance, not only from Russia but also from Iran. Both have provided significant military and political support to the embattled Syrian President. The deployment of the advanced S-400 air defence system to the Russian airbase in Hmeimim, Syria in December 2015 was one such move. This missile system can track hundreds of targets at a range of up to 400km and therefore cover most of northern Syria and a large chunk of southern Turkey.
Politically Iran and Russia could also throw support behind the Kurds in northern Syria and Iraq, placing pressure on Ankara's assertive Syria-policy. While this could be an effective tactic, it would result in Turkey doubling down on its resolve to weaken the YPG, or even result in direct blowback for Iran, which also has a significant Kurdish minority.
POLARISATION IN IRAN
The nuclear deal struck between Iran and the P5+1 in mid-2015 will be a central issue on the Iranian political circuit in 2016. The implementation of the deal will be met by political wrangling and present significant political challenges as moderates and conservatives become increasingly polarised over this crucial policy issue.
The agreement will empower President Rouhani's administration and the moderate politicians that support it, particularly as Iranians begin to feel the effects of an expanding economy and increased standing in the international community. This will provide Rouhani with a powerful and persuasive platform from which to push back against opponents of the deal.
The agreement will draw scepticism and in some cases downright hostility from many conservative politicians who will attempt to embrace the historical distrust of the West harboured by many Iranians in order to disrupt the implementation of the accord.
Expect Iran's Revolutionary Guard Corps (IRGC), a powerful and conservative military and security organisation responsible for protecting the regime, to be at the vanguard of those challenging the implementation of the nuclear deal in 2016. The IRGC has grown into the most powerful economic actor in the country in the past decade, filling the hole left by sanctions by establishing large companies that are often operated through private patronage networks in order to avoid sanctions. These companies pervade the Iranian economy: from construction to energy, telecommunications to banking. The IRGC has benefitted from the award of substantial government contracts, sometimes under obscure circumstances, and has benefitted from a close relationship with both the Supreme Leader and the conservative Ahmadinejad administration.
Any moves to liberalise the Iranian economy and reform foreign investment laws will threaten the IRGC's dominant role in Iranian society. Therefore expect conservative elements of the Iranian political scene to put up a fight, not only to prevent the full implementation of the nuclear deal but also to resist the general trend of warming relations with the West and opening up of Iranian markets.
Importantly, unlike many other Middle Eastern countries, Iran has a relatively vibrant political scene with multiple actors that have divergent interests, although this is not without its limits. In this sense, Iran is not a unitary actor, but one with different factions vying for influence, much like the political jockeying that occurs in the West.
ECONOMIC REVIVAL
The outlook for the Iranian economy has improved significantly over the past 12 months. Assuming the nuclear deal is fully implemented, as appears to be the case, Iran looks set to enjoy sanctions relief with a resultant increase in trade and gradual access to the international financial system. This will provide a welcome reprieve from the economic isolation that it has endured over the past decade. Forecasts predict a marked uptick in economic activity, with growth expected to top 5% of GDP in 2016-17.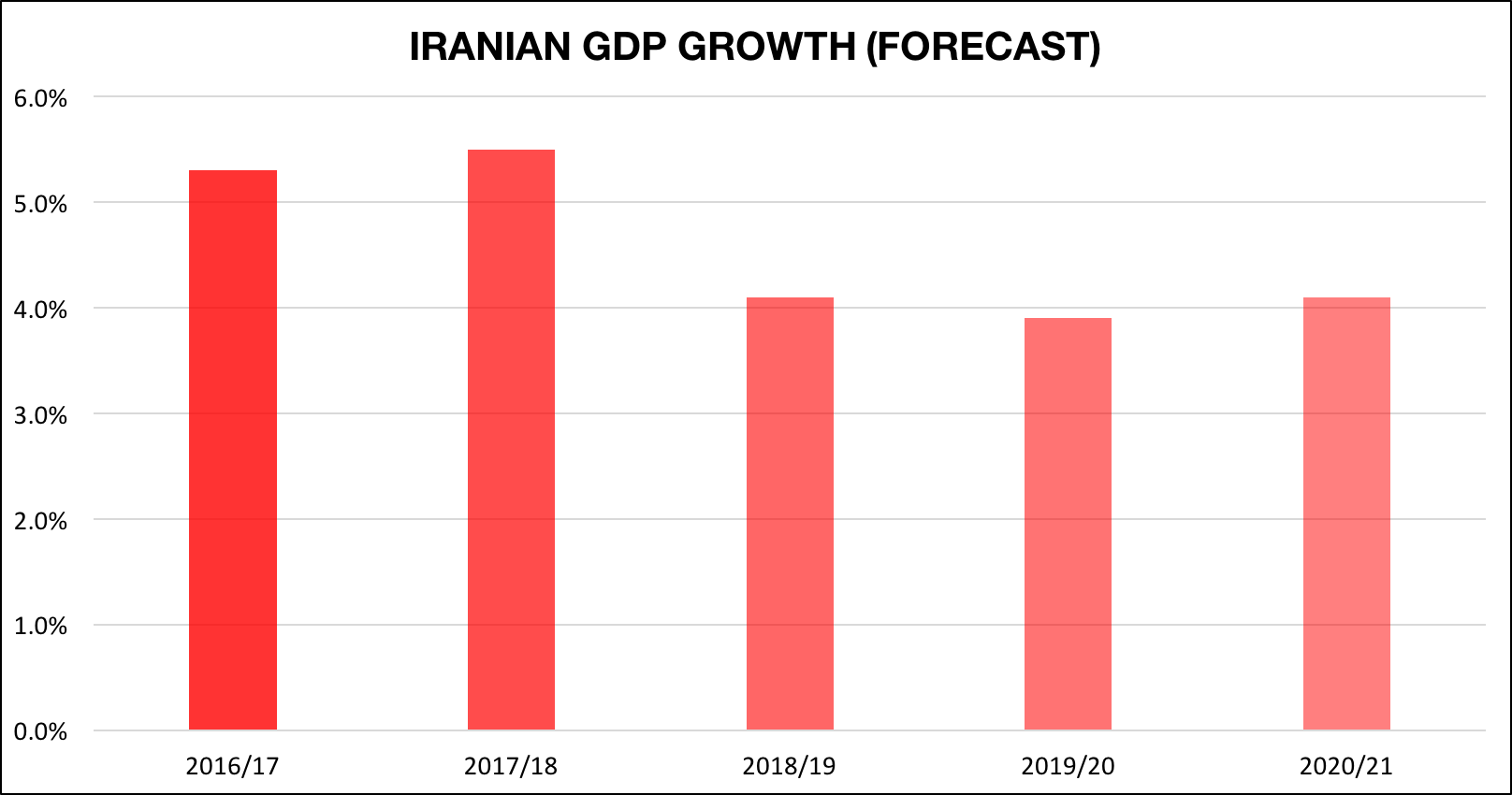 The lifting of economic sanctions will also signal the resumption of large-scale oil and natural gas exports from Iran, which holds the fourth and second largest global reserves respectively. Prior to the nuclear deal, Iran's oil production was hovering around the 3 million barrels-a-day mark, with just over a third of that figure exported. Iranian authorities have now stated they are ready to increase production to 4 million barrels a day by mid-2016. However, noting the relatively poor state of Iran's infrastructure and the lead-time required to get plugged wells flowing again, market analysts have voiced doubts whether this is feasible within such a short period. Despite this, Iran has been stockpiling huge reserves of crude, using tankers as floating storage in anticipation of the lifting of sanctions. The lifting of sanctions will have a noticeable impact on the already over-supplied oil markets.
Although historically low oil prices will dampen expectations for economic growth in 2016, the resumption of large-scale exports will be a boon for a recovering Iranian economy
Away from the oil markets, the lifting of sanctions will bring opportunities to harness Iran's young, well-educated population, particularly with the likely increase in foreign investment. Foreign capital and expertise are desperately needed to modernise Iran's infrastructure and drive competitive advantages in sectors like car manufacturing, industry. Since the interim agreement on Iran's nuclear program was reached in late 2013, Western trade delegations have been frequenting Tehran in anticipation of the lifting of sanctions. In September 2015, a large French delegation visited Tehran, including politicians and representatives from oil major Total, car manufacturer Peugeot and airline producer Airbus. If the composition of the French delegation is a sign of Iran's potential international business partners, Iran's economic prospects are positive.
ENERGY MARKETS
WEAK DEMAND AND OVERSUPPLY
An oversupply of oil combined with weakened demand and the pricing-in of geopolitical risk led to historically low oil prices in 2015. A barrel of oil started out the year at $55  before tumbling below $40 a barrel by the year's end.
Given the number of factors that impact on the price of oil, it is difficult to make an accurate prediction. If an estimate were to be made solely on economic factors, crude prices are likely to hover within $10 of their current $30 range within the next 12 months or so. This estimate is based on a global economic climate in which demand for oil has grown marginally, but oil production has increased, leading to over-production. As OPEC members have maintained oil production rates throughout 2015 despite a sustained drop in prices, there is little reason to believe that OPEC producers will reduce production in 2016.
OPEC is reluctant to reduce production for several reasons, one of these being that it is seeking to claw back market share from US shale producers who face higher production costs than traditional producers. Another factor is the lack of trust that exists between OPEC members. with Saudi Arabia, the cartel's de facto leader, unwilling to cut production as it does not trust its counterparts to follow suit. This reality, coupled with an Iran eager to re-enter the oil markets in full force in 2016, will help keep prices rather low (below $50) for the most part throughout the year. This fact is not lost upon several countries that require prices to be maintained high to balance their national budgets, such as Russia and Venezuela, and who will have to resort to budget cuts of varying degrees to steady their finances.
Another factor is the lack of trust that exists between OPEC members. Saudi Arabia, the cartel's de facto leader and swing producer, has remained unwilling to cut its own production due to mistrust of other producers, who it feels will not follow suit. This reality, coupled with Iran's eagerness to re-enter the oil markets in full force in 2016, will help keep prices relatively low throughout the year. This could cause turmoil in large oil producers who require high commodity prices to balance their national budgets. Countries such as Nigeria and Venezuela will have to resort to budget cuts of varying degrees to stabilise their finances, possibly leading to economic or social unrest.
One should note that geopolitical factors may also directly influence oil prices to climb or drop. There are several areas to watch out for, which we believe will help oil prices climb to $50 by the end of this year, settling somewhere in the low to mid-50s.
Any unexpected instability in the MENA region, particularly in countries like Saudi Arabia, Iraq, Libya, or Iran, may drive oil prices higher. On the other hand, markets have already priced in geopolitical risk in some of these countries, particularly Iraq and Libya, which have been racked by conflicts in recent years.
TENSIONS IN THE GULF
Saudi Arabia's long-serving King Abdullah passed away in early 2015. While his successor, King Salman, has sought continuity, any hint of instability brought about by flashpoints such as a direct confrontation with Iran, increased discontent from the younger generations or infighting among the sizable ruling family may threaten Saudi Arabia's stability. That stability has been based upon strong prices for oil exports that have sustained the monarchy for some years.
The Saudi announcement on January 3, 2016, that it would break off diplomatic relations with Iran is likely to see an escalation in tensions in several areas, particularly Syria and Yemen. Such tensions and the associated uncertainty will push oil prices upwards in 2016, although perhaps not in the first half of the year.
On the other hand, the lifting of sanctions Iran will absorb any reduction in production elsewhere, dampening price rises.
Previous external threats, such as an attack by the U.S. or Israel on Iran's nuclear facilities are far less likely in 2016, given the Iranian nuclear agreement with the P5+1 Group.