FIRST PUTIN, MACRON MEETING INFORMAL TALKS IN VERSAILLES The leaders of France and Russia will hold an informal meeting at
FIRST PUTIN, MACRON MEETING
INFORMAL TALKS IN VERSAILLES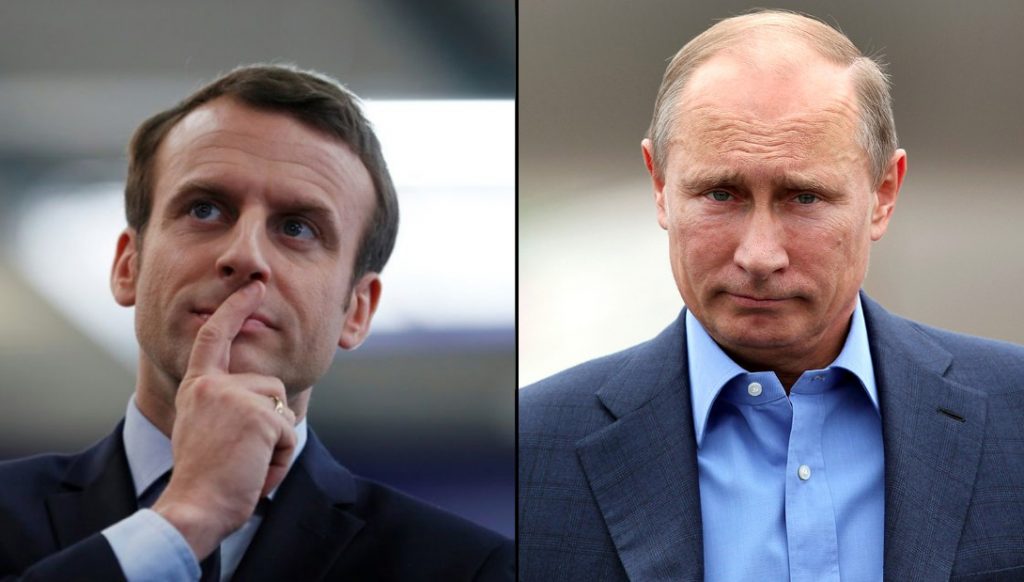 The leaders of France and Russia will hold an informal meeting at the Palace of Versailles on Monday. The talks will be the first leader-to-leader contact between the two countries in five years.
Officially, the two leaders will unveil an exhibition celebrating Peter the Great's first diplomatic visit to France 300 years ago—a symbolic gesture that highlights the historical depth of ties between Russia and France.
Practically, Macron and Putin will use the encounter to feel each other out on a personal level—as a former KGB man, Mr Putin is known to place substantial stock in personal relationships with leaders.
Significant divides exist. France has taken a hard line on the removal of Bashar al-Assad in Syria, who Moscow backs, and is also a leading voice in the continuance of the EU's Crimea-related sanctions on Russia.
Neither of these stances will change on Monday; in fact, over the weekend Macron and his fellow G7 leaders reaffirmed their commitment to Russian sanctions. However, the informal meeting will lay the foundations for a relationship that will no doubt be rigorously tested in the coming years.
RUSSIAN AND EGYPTIAN DIALOGUE
TIES STRENGTHEN OVER LIBYAN INTERESTS
Russian Foreign Minister Sergei Lavrov and Defence Minister Sergei Shoigu will travel to Cairo on Monday to meet their Egyptian colleagues. The meeting is part of the so-called 2+2 dialogue, which was set up in 2013, shortly after general-cum-president Abdel Fattah el-Sisi took power in Egypt as a way of strengthening military and diplomatic cooperation.
While Egypt has been a US ally since the 1970s, the Obama administration's desertion of President Hosni Mubarak during the 2011 revolution and its subsequent criticism of Sisi's authoritarian rule has pushed Cairo to reinvigorate Soviet-era relations with Russia.
For its part, Moscow has shown great interest in increasing its influence in the Middle East and North Africa in recent years, with interests in Syria and Libya. Russia has aligned itself with Libyan strongman Khalifa Haftar—a secular general who controls the powerful Libyan National Army based in the country's east. Egypt also supports Haftar and has allowed Russian forces to use the Sidi Barrani air base, some 100 kilometres from the Libyan border.
Monday's talks are expected to focus on anti-terrorism and anti-Islamist cooperation in Libya; President Sisi ordered airstrikes on the eastern Libyan city of Derna on Friday, supposedly targeting a camp that helped train those who killed 28 Coptic Christians in Egypt earlier in the day.
Delve deeper: Libya: Moscow's next power play?
FRANCE'S NUCLEAR MERGER
EUROPEAN WATCHDOG TO APPROVE DEAL
The European Commission will decide whether to approve a deal that would see electricity giant EDF acquire a controlling interest in part of Areva, a company that designs and manufactures nuclear reactors. Both firms are majority-owned by the French government.
The European Commission's competition watchdog is concerned that the deal might impact pricing and innovation—particularly if an EDF-owned Areva decides to stop selling its highly complex and difficult to replicate parts to external companies.
By merging EDF with Areva's nuclear reactor business, France's government is hoping to create a more potent nuclear energy exporter. EDF and Areva are both responsible for constructing the UK's $24 billion Hinkley Point C plant.
The merger is expected to increase the competitiveness of EDF's nuclear reactor business, helping it fend off competition from Russian and Japanese exporters.
As well as exporting nuclear power plants, EDF is currently the world's largest producer of electricity—supplying more than a fifth of the EU's power. The Areva deal will further consolidate its position as one of Europe's most powerful energy players.
The European Commission is expected to approve the agreement on Monday.
HAPPENING ELSEWHERE…
Indian PM Narendra Modi will begin a three-nation tour of Europe, touching down in Germany on Monday. The visit signals strengthening ties between the subcontinent and Berlin, with a number of agreements on defence procurement and energy expected to be signed. Modi will fly to Spain on Tuesday before heading to Russia on Thursday where he's expected to hold talks with President Putin on the sidelines of the St Petersburg International Economic Forum.
A prominent Egyptian opposition politician will face court charged with 'offending public morals' after allegations he made an obscene finger gesture. Khaled Ali, a liberal, is widely expected to challenge President Sisi in next year's election but will be prevented from doing so if convicted in the current trial.
Danish, Norwegian and Swedish transportation officials will hold talks with their Iranian counterparts on liberalising air travel arrangements. As with many other Western airlines, Scandinavian carriers don't fly to Iran. But with scores of historical landmarks and a population of more than 80 million—more than half of which is under 30—Iran presents as a lucrative, largely untapped market for airlines and travel companies.