Elections and trade will dominate the geopolitical discourse in the Americas in 2018.
US MIDTERMS: VOTERS LIKELY TO MAKE TRUMP'S JOB HARDER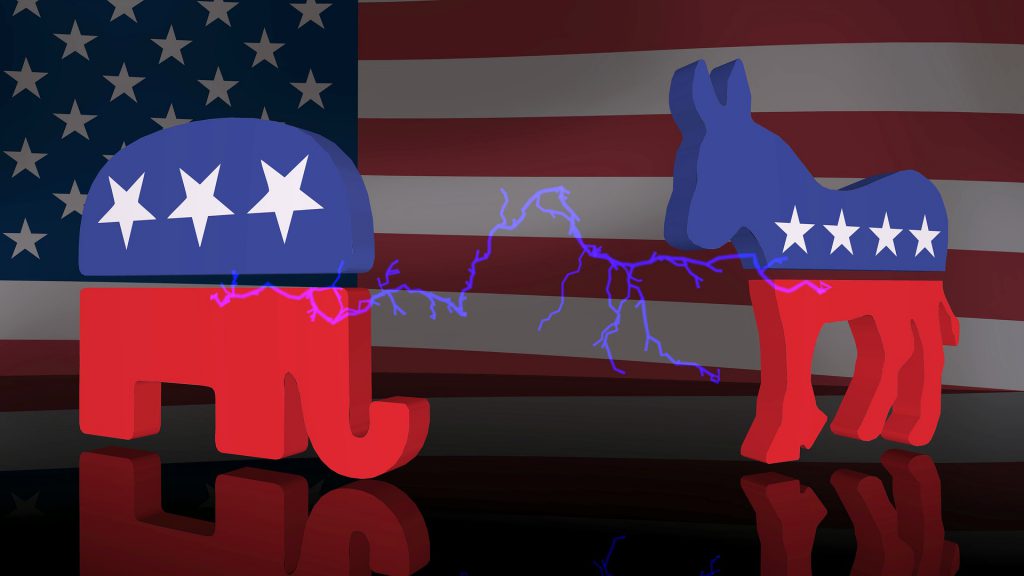 The US holds midterm elections on November 6, and voters will likely register their displeasure with President Donald Trump's administration. Up for grabs are 33 of 100 Senate seats and every seat in the 435-member House of Representatives.
Republicans were originally favoured to maintain control of the Senate but following the upset Democratic win in Alabama's special election, control for the chamber looks like a tossup. Democrats stand a strong chance of gaining Republican-held seats in Arizona and Nevada. However, Republicans could counter these gains by beating Democratic incumbents in five states that Trump carried in 2016 by landslide margins, particularly in Missouri and Indiana.
Each at-risk Democratic incumbent has a strong personal brand in their respective state and the results will likely be close. Yet to win a majority, Democrats will need to hold all their seats and win both Arizona and Nevada. This will be a challenge. But considering Trump's low approval rating, the 'Grand Old Party' (GOP) is at a significant disadvantage; the White House's party almost always loses seats at the midterms.
The picture in the House is also uncertain. Democrats will almost certainly gain seats, but winning the 24 necessary for a majority could be too tall an order as it would entail gaining districts with Republican leanings. However, off-year results in 2017 have shown Democrats winning the large swings they need to take those districts, and their ability to do so will increase if Trump's popularity declines further. Additionally, the decision of many House Republicans not to seek reelection could further endanger the GOP by denying the party an incumbency advantage in some competitive districts. Regardless, the more seats Republicans lose, the more GOP leadership will have to depend on the right-wing House Freedom Caucus to win votes — unless they make compromises with Democrats.
The best signs to watch are two polling figures: Trump's approval rating and the "generic ballot", which signals voters' preference for which party they would vote for without a specific candidate mentioned. According to FiveThirtyEight, Trump currently has a 36.7% approval rating and Democrats have a double-digit lead on the generic ballot, both indicators heavily favouring the Democratic Party. If either metric becomes worse for Republicans over the course of 2018, even deep-red Senate seats in Texas and Tennessee could come into play.
Unless President Trump's popularity rebounds and Republicans defy both historic trends and this year's Democratic-leaning election results, expect the outcomes of the midterms to make governing much more difficult for the GOP. Either narrow Republican majorities will be paralysed by ideological divisions or a Democratic Congress will actively block and oppose Trump's agenda.
POPULISM, CORRUPTION AND ELECTIONS
Latin America will host seven general or presidential elections in 2018. Populist leaders will look to sustain their 2017 gains in light of dwindling public support for the status quo.
The most significant elections for regional politics are those in Mexico, Brazil, and Colombia.
MEXICO
Mexicans head to the polls in July to vote in their next president for a 'sexenio' – a six-year non-consecutive single term. Andres Manuel Lopez Obrador (AMLO), a populist-leftist candidate, and independent populist Jaime Rodriguez Calderon (El Bronco) are both taking hard-line stances on corruption and organised crime. AMLO and El Bronco are outspoken anti-establishment eccentrics who will challenge the Institutional Revolutionary Party (PRI) and the National Action Party (PAN) — the country's only two political parties to have held office since 1939.
Voters will have plenty of options at this election as independents can run for president for the first time. Nearly 100 candidates have entered the field, including Margarita Zavala, the wife of former President Felipe Calderon. She is likely to be a key player and will agitate traditional parties after losing power within the right-wing PAN. Campaigning officially begins in March – the same time that North American Free Trade Agreement (NAFTA) negotiations end – and candidates are yet to express radical changes to economic and social policy.
President Enrique Pena Nieto will remain influential until the election. In his final months he will look to build up national industries through Special Economic Zones (SEZs) in Guerrero, Michoacan, Oaxaca, and Veracruz – four of Mexico's most ravaged crime states – to lure citizens away from organised crime groups. The SEZs will also provide some reassurance for investors as ambiguity throughout NAFTA renegotiations casts uncertainty across Mexican manufacturing industries.
Whoever leads Mexico next faces a tough challenge. Crime rates have soared in 2017 and consecutive earthquakes in September saw hundreds killed in cheaply built dwellings and schools, which highlighted the country's deeply-embedded corruption. The new president will need to balance Mexico's long-standing neoliberal agenda while pursuing a more effective and legitimate counter to violence. This challenge may favour an independent populist who is not heavily tied to any particular institution or party.
BRAZIL
The Brazilian corruption scandal that dominated 2017 headlines will have significant impact on the two rounds of voting in October. Former president Luiz Inacio Lula da Silva (Lula) is the front-runner for 2018, despite facing 9 1/2 years in jail on corruption charges. Lula's sentence is contingent on an appeal, which will most likely not be overturned.
This leaves Jair Bolsonaro, a former military officer dubbed Brazil's Trump as the other main candidate. Bolsonaro is cited by some political observers as misogynistic, racist, and xenophobic; he praises the oppressive Brazilian military dictatorship from 1964-1985. But his hard-line stance on corruption appeals to those affected by the widespread scandal that has engulfed political and corporate elites, which has spread to President Michel Temer.
If Lula loses his appeal and goes to jail, Bolsonaro will most likely be matched up with Marina Silva – Lula's former Environment Minister – in a second round of voting. Silva is free of corruption charges and has sought to address graft. If elected, she will look to stabilise the national economy, provide certainty to the labour market and rebuild trust in national companies, which played a central role in the corruption scandal.
COLOMBIA
Colombians voting in May face a troubling scenario that will most likely see a tight election. Current President Juan Manuel Santos has served two consecutive terms and cannot run again, and will depart office with Colombians worried about unemployment, corruption and healthcare. Corruption, an undercurrent for all major Latin American elections in 2018, concerns one-fifth of Colombian voters, and Democratic Center candidate Oscar Ivan Zuluaga has already fallen victim to a scandal that engulfed Brazilian politics.
Colombia's Democratic Center and the Conservative Party have formed a right-wing coalition but they are failing to garner support. More broadly, traditional political parties have lost public favour, sinking to an 87% disapproval rating over repeated corruption scandals. This has led to over 20 independent candidates nominating for president.
The election will see for the first time campaigning by far-left Common Alternative Revolutionary Force (FARC) thanks to a negotiated settlement in July 2017 that saw the five-decade insurgency movement agree to disarm. FARC is highly unpopular due to its violent history and drug-trafficking operations but it is guaranteed political representation in the next legislature, which could raise tensions as the election approaches. A further complicating factor in next year's election will be turnout: only 40% of eligible voters participated in 2014.
VENEZUELA
Venezuela's presidential election will be a one-sided affair unless incumbent Nicolas Maduro is ousted in the meantime. Most opposition parties have been banned from campaigning or entering the election race for boycotting municipal polls in December 2017. The accumulation and consolidation of power that Maduro has achieved in 2017 remains a dilemma for Latin American leaders as it features not only corruption but a potential refugee crisis.
Throughout 2017, Venezuelans have endured a food and oil crisis and inflation that the IMF projects will hit 2,300% in 2018. The economic turbulence could see the return of deadly street protests and violence, or incite a refugee crisis, which would strain services in neighbouring Colombia. But this may favour Maduro, who has shielded his supporters from the worst of the nation's crises.
US PROTECTIONISM AND LATIN AMERICAN MULTILATERALISM
As the US isolates itself from free trade agreements (FTA) in 2018, Latin America's most powerful economies will look to further integrate.
US PROTECTIONISM
NAFTA countries go into their final two of seven rounds of renegotiations in early 2018, casting a pall over North American trade and diplomacy. The US is central, both geographically and economically, for Canadian and Mexican trade, and US negotiators have capitalised on this to propose contentious changes to the agreement. Canadian and Mexican negotiators have proved unwilling to meet seemingly unreasonable and one-sided US demands which are reducing business and investor confidence. The lack of confidence derives from a proposed Sunset Clause that would see NAFTA expire after five years if it is not successfully renegotiated, leaving investors with no certainty in developing long-term strategies. Additionally, Trump hopes to remove the Investor State Dispute Settlement (ISDS), which allows foreign companies to sue hosting governments for loss of profits that stem from changes to policy or regulation.
The failure of the US to accommodate the interests of its neighbours has encouraged Canada and Mexico to push for greater engagement with South American economies. In 2017, Mexico imported more corn and soy from Brazil and Argentina, eclipsing trade with the US, one of the latter's most important exports to Mexico. If the US does pull out of NAFTA — a distinct possibility — expect Canada and Mexico to pivot to other multilateral trade partnerships, particularly with the EU. Canada has partially entered into force the Canada-EU Comprehensive Economic and Trade Agreement (CETA), while Mexico will look to finalise the EU-Mexico Global Agreement, which came into effect in 2000.
Canada and Mexico will also seek progress in the Comprehensive and Progressive Agreement for Trans-Pacific Partnership (CPTPP), the successor to the TPP, which the Trump administration withdrew from in 2017. The Pacific trading pact with 11 nations will allow Canada and Mexico to maintain some of their shared free-trade benefits if the US withdraws from NAFTA. Such an outcome may haunt President Trump at the midterm elections as his agricultural supporters will lose further access to international markets, which have propelled US agribusiness dominance and growth over the last 50 years.
LATIN AMERICAN MULTILATERALISM
The Pacific Alliance – comprising Chile, Colombia, Peru, and Mexico – is making significant headway operating as a trade bloc worth nearly $2 trillion in GDP. The Alliance will look to expand in 2018 and integrate trade with Mercosur, Latin America's Atlantic Ocean facing trade bloc, as well as FTAs with Australia, Canada, New Zealand, and Singapore.
Mercosur – comprised of Argentina, Brazil, Paraguay, and Uruguay, with Venezuela as an observer – is also engaged in intercontinental negotiations, and has been trying to finalise an FTA with the EU after negotiations began in 1999. The most difficult points to negotiate with the EU on are biofuels and beef exports, and frictions over this may delay its signing until 2019. Brazil's corruption scandals, particularly the rotten-meat scandal in 2017 which saw the EU and China block Brazilian beef exports, will play on the minds of EU negotiators.
While there is economic optimism among Latin American nations regarding growth and integration of free-trade, the victory of populist candidates at various 2018 elections may undo progress made by their predecessors. This may lead investors and trade partners hoping to enter Latin American markets in 2018 to rush the final stages of FTAs or hold off until after key elections.