PLAYING NICE French foreign minister arrives in China amid strategic shift Jean-Yves Le Drian arrives in China today for a
PLAYING NICE
French foreign minister arrives in China amid strategic shift
Jean-Yves Le Drian arrives in China today for a four-day cultural exchange aimed at enhancing bilateral ties.
Le Drian's first visit as foreign minister is an opportunity to reinforce a "global partnership" as Paris signals it will take adopt more assertive role in the Indo-Pacific region.
While Emmanuel Macron is yet to define a clear Asia policy, he has expressed concern at France's $30 billion trade deficit with China. Meanwhile, recent ministerial visits to India, Japan and Southeast Asia highlight a shift away from France's traditionally China-centric focus and towards a multi-faceted Indo-Pacific strategy.
As the second largest maritime power in the world, France is easily the main European player in the region. Concerns of Beijing's militarisation of the South China Sea prompted Mr Le Drian to suggest Paris may soon engage in 'freedom of navigation' operations, although stopped short of naming China directly—after all, other states have claims in the disputed waters.
PARTNERS AGAINST CRIME
Delegates gather in Brussels for 2017 Eastern Partnership summit
Leaders from the EU-28 will meet their counterparts from the six Eastern Partner countries today, for the biannual Eastern Partnership summit. Delegates will discuss ways to strengthen cooperation in four priority areas relating to economic relations and political governance: (1) developing stronger economies; (2) strengthening governance; (3) strengthening connectivity; and (4) strengthening society.
Most notably, delegates will discuss a resolution, passed on November 15 by the European Parliament, urging deeper European integration of Ukraine, Georgia and Moldova in the form of a new sub-body called the "Eastern Partnership Plus". According to the resolution, the body is intended to serve as general means of further integrating "associated states" with Europe, particularly through trade and energy ties.
The resolution also calls for the summit to encourage these three states to implement anti-corruption reforms and to maintain collective pressure on Russia to resolve disputes in Eastern Ukraine, Transnistria, Abkhazia and South Ossetia.
In an effort to collectively counter Russia as an expanded body, expect the summit to take serious steps in the direction of the institutionalisation of the Eastern Partnership Plus.
ON THE BRINK
South African credit ranking in jeopardy, as junk status looms
Moody's and S&P, the world's top credit agencies, will pass judgement on South Africa's rand-priced debt today, which accounts for some 80% of the country's public debt.
A downgrade by both agencies would see indexes with rules on the minimum investment-grade forced to offload some $10 billion worth of bonds. A downgrade could is also likely to devalue the rand.
Corruption and political jockeying between President Zuma and former Finance Minister Pravin Gordhan has pushed business confidence to a 32-year low, leading the country into its second recession in a decade.
But with Zuma's successor as party leader set to be chosen in mid-December and the 2018 budget due in February, credit agencies are likely to adopt a wait-and-see approach today. This would mean placing South Africa's rand-denominated debt on review, leaving 90 days before an official downgrade is applied.
Delve Deeper: South Africa's Failing Democracy: the crisis continues
ESCALATION IN ECUADOR
Former President returns home with accusations of secret US deals
Today, former Ecuadorian President Rafael Correa will return to his country after accusing current President Lenín Moreno of backdoor deals with the United States. Currently living in Belgium, this will be Correa's first time returning to Ecuador since leaving office.
His accusations are based on a recently revealed meeting in May between Moreno and former Trump campaign manager Paul Manafort. The latter, now charged with money laundering and other crimes, travelled to the meeting using a phone registered under a false name.
Moreno previously claimed he would continue the implementation of Correa's leftist policies. However, since taking office, Moreno has moved further away from the previous administration, denouncing and distancing himself from Correa.
The former president now seeks to defend his policies, which he claims are under attack. As Correa reintroduces himself into Ecuadorian politics, expect tensions to rise and more accusations to come in the months ahead.
HAPPENING ELSEWHERE…
After months of talks, Brexit breakthrough nears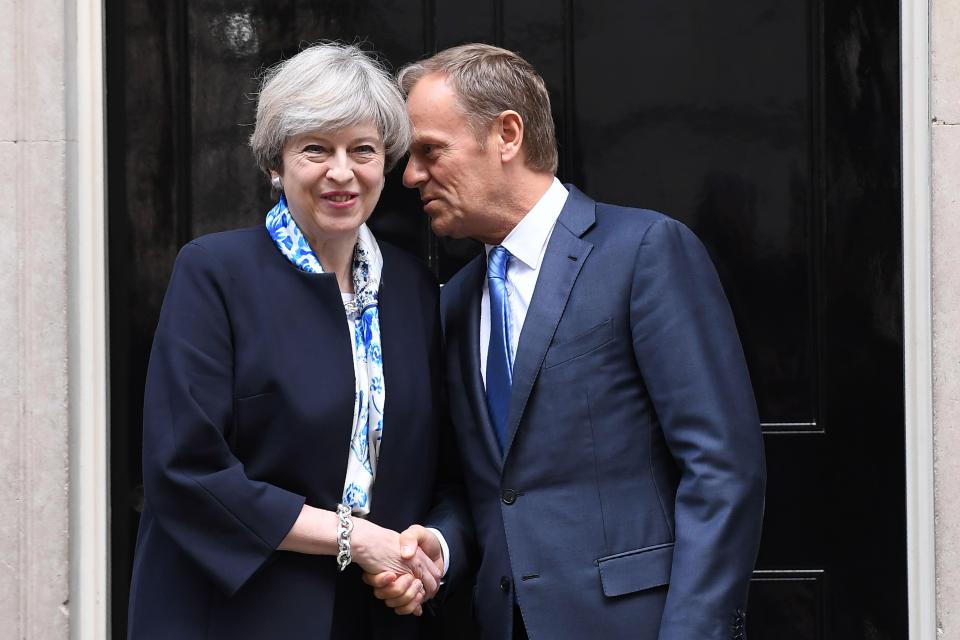 Today, British PM Theresa May will meet the EU's Brexit chief, as well as EU Council President Donald Tusk, as she seeks to meet a deadline to provide clarity on London's position on Brexit. After months of back-and-forth, analysts suggest a breakthrough is near—possibly coming at a crucial EU summit beginning December 14. Just yesterday, European Commission President Jean-Claude Juncker said indications of progress might be evident "in the next few days". But sensitive issues remain, the Irish issue chief among them. Expect the Brexit space to be a busy one in the coming month.
After the 'resignation' of long-time President Robert Mugabe, Zimbabwe will get a new president today: Emmerson Mnangagwa, who will be sworn in at a special parliamentary sitting. But while images of Zimbabweans celebrating in the street have been broadcast across the world, there's also significant caution about hopes that Mnangagwa—who served Mr Mugabe's right-hand man for decades—will bring real democracy.
Mexican authorities will announce preliminary GDP growth rates for the three months to September.