STRONG AND STABLE? BRITAIN VOTES Brits head to the polls today in a snap election that conservative PM Theresa May
STRONG AND STABLE?
BRITAIN VOTES
Brits head to the polls today in a snap election that conservative PM Theresa May had hoped would strengthen her hand ahead of Brexit negotiations, which start on June 19.
Initially, it looked as though Ms May's plan would work. Polls suggested her party would cruise to victory, easily beating Jeremy Corbyn's centre-left Labour Party. However, recent surveys indicate that the Conservative Party's lead has reduced considerably since the election was announced on April 18.
Amid the recent terror attacks in London and Manchester, the election may well be decided by the candidate who is deemed to be more competent on security issues. Speaking to supporters on Tuesday, May said she was willing to "change those [human rights] laws" to tackle terrorism. Meanwhile, Mr Corbyn's camp argues that the growth of the terrorist threat is closely related to the government's cut to police funding.
While some polls suggest the Conservative Party may fall short of the 326 seats needed to form a majority, Theresa May is expected to be returned to office for the next five years. Brexit negotiations await.
Delve deeper: The UK's divisive general election
COMEY TESTIFIES BEFORE SENATE
TRUMP TO NOMINATE WRAY AS REPLACEMENT
Washington DC will come to a standstill today when former FBI Director James Comey testifies before the Senate Intelligence Committee. The public session will be Comey's first public address since being fired by President Trump on May 9 and will be followed by a closed-door hearing to discuss classified information.
In the lead up to Thursday's testimony, Donald Trump announced plans to nominate Christopher Wray, a former assistant attorney general under President George W. Bush, to fill the FBI director vacancy. Coming just a day before Comey's appearance, the announcement appears to be designed to divert attention from the Senate hearing.
Although Mr Trump is not formally the focus of today's probe—and is ostensibly protected from impeachment by a Republican-controlled Congress—Comey's testimony could prove dicey for the president. The former FBI chief is known to have kept memos detailing his conversations with the president, which will be of particular interest to the committee. If it emerges that Trump did try to impede the investigation into former National Security Adviser Michael Flynn's ties to Moscow—as one February 27 memo reportedly suggests—Republicans will find it difficult to defend the president.
3 BILLION STRONG
SHANGHAI GROUP ADMITS INDIA AND PAKISTAN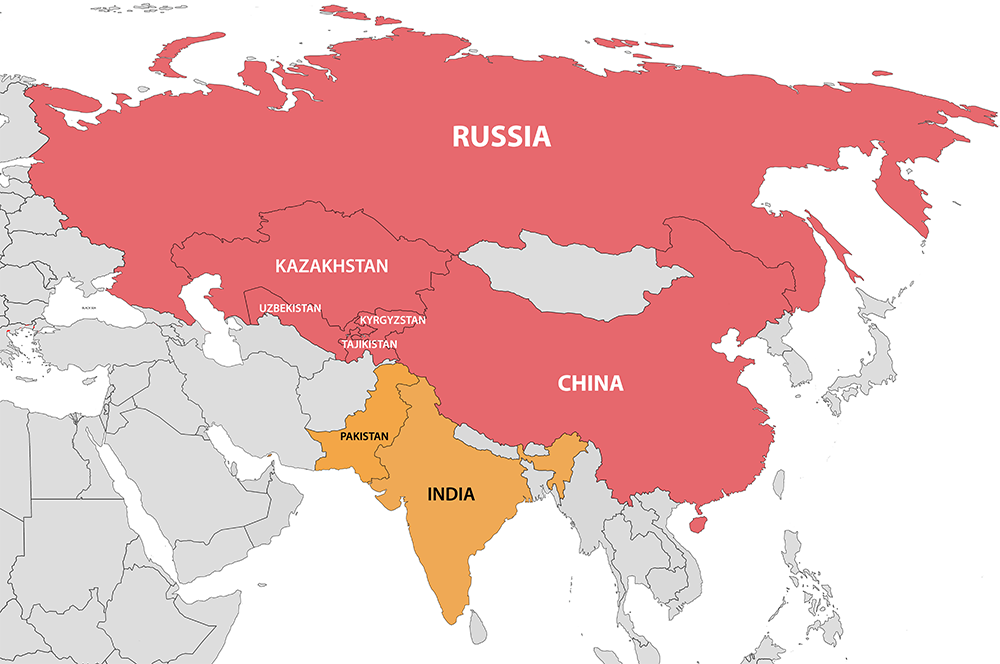 The Shanghai Cooperation Organisation will become the world's most populous regional bloc today when both Pakistan and India formally join at a summit in Astana. The SCO is a Russian- and Chinese-led organisation comprised of six (soon to be eight) members and focusses on political, economic and military cooperation.
Chinese President Xi Jinping has highlighted the Shanghai Group's growing geopolitical clout, noting that admitting India and Pakistan, both nuclear powers, will increase the SCO's "role and influence".
Some diplomats are also holding out hope that SCO membership may help ease tensions between the two South Asian foes, which have engaged in numerous wars and clashes since 1947. But with border skirmishes ongoing—five were killed in Kashmir just last week—there's much work yet to be done.
Despite this, India and Pakistan's accession to the SCO today will enable both countries to strengthen ties with Central Asian states to feed their growing demand for hydrocarbons and strengthen anti-terror cooperation.
Delve deeper: The India-Pakistan rivalry renewed
HAPPENING ELSEWHERE…
The European Central Bank will review its policy settings. It is expected to keep rates on hold and publish reduced inflation forecasts through to 2019. Analysts expect a slight tweak in the language used by President Mario Draghi on Thursday. This is usually the first step to tightening monetary policy, which currently features a 0% interest rate and $2.6 trillion bond-buying program—designed to pump liquidity into Europe's economy. Despite this, changes aren't expected in the short-term.
French Foreign Minister Jean-Yves Le Drain will travel to Egypt, where the diplomatic spat with Qatar is expected to feature highly. Le Drain spent Wednesday meeting with his Saudi and Qatari counterparts in Paris and fielding a call from Turkey's president—a traditional Qatari ally—in a bid to help resolve the crisis. Kuwait and Oman are emerging as regional mediators between Qatar and the six Arab states that cut ties on Monday.
Japan's government will announce a revised economic growth figure for the three months to March. The data is expected to show the economy grew at an annualised rate of 2.4% in the first quarter, up from a preliminary figure of 2.2%.