THAAD THAW Chinese tourist groups return to South Korea for the first time since missile spat The first Chinese tour
THAAD THAW
Chinese tourist groups return to South Korea for the first time since missile spat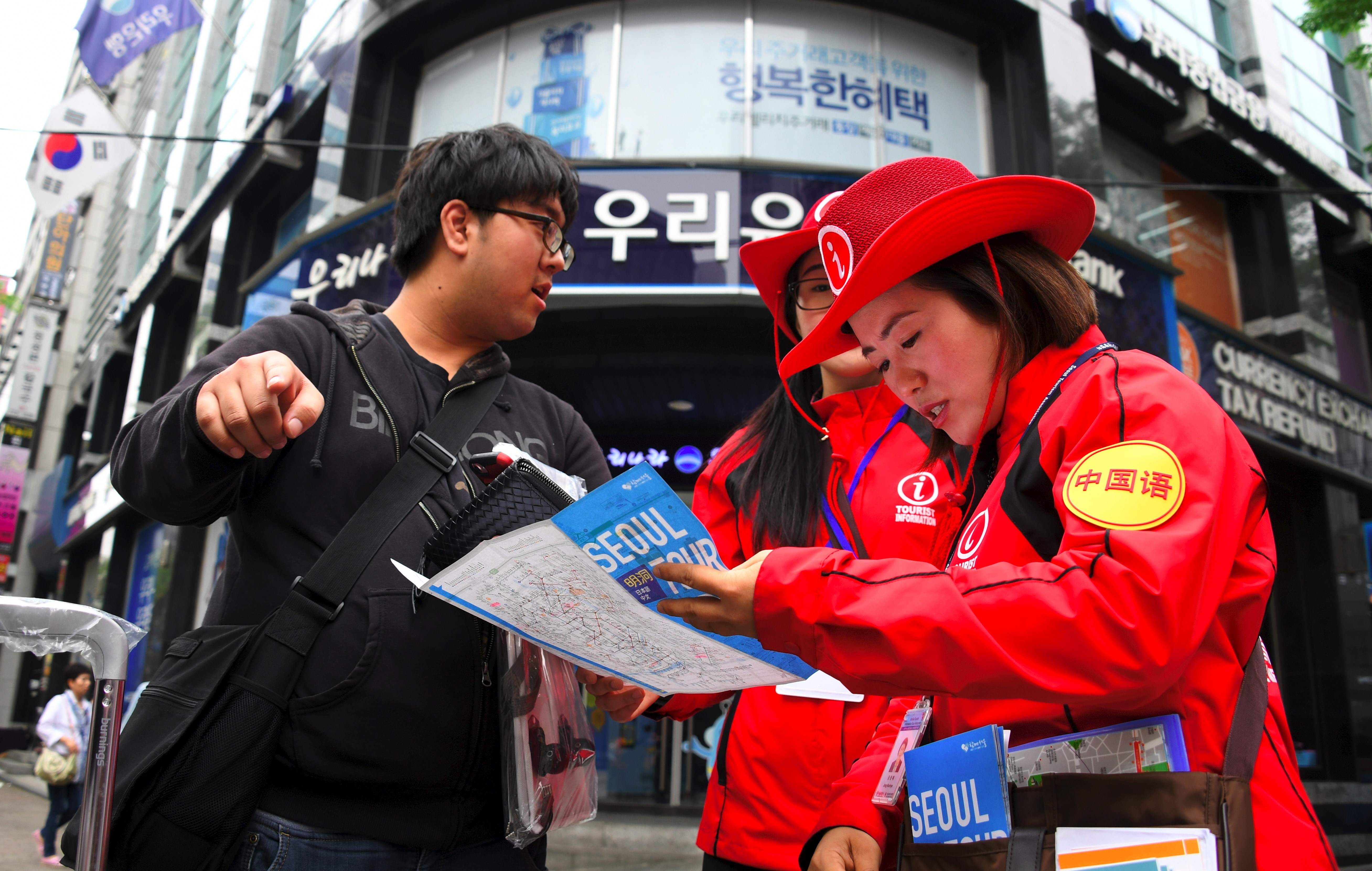 The first Chinese tour group will arrive in Jeju Island today since Beijing punished Seoul over the deployment of the THAAD anti-missile defence system in South Korea.
China sees the powerful radar deployed with THAAD, which can penetrate deep into Chinese territory, as a proxy to track Chinese missile systems. They also dispute its defensive utility as it doesn't stop all North Korean missile types.
In response, Beijing imposed undeclared "grey sanctions" on Seoul—mostly boycotts of South Korean products. As a result, Lotte supermarkets—which gave land for THAAD—has had to close 79 of its 99 supermarkets in China. Hyundai car sales slumped by 64% in one month alone, eventually forcing a pull-out. Tourist numbers crashed 50% from 47% of all tourists in 2016.
New pragmatic President Moon Jae-in is aware China is worth over $100 billion to the South Korean economy and is busy trying to normalise relations again. Mr Moon may well be tempted to compromise on THAAD if it is the price to pay for economic growth.
BACK AT IT
Latest round of UN-backed Syrian peace talks kick off in Geneva
Peace talks in Geneva begin today, aiming to end the Syrian civil war. After last week's Riyadh Summit, the opposition's new chief negotiator Nasr al-Hariri said they will discuss "everything on the negotiating table".
This follows Vladimir Putin's meeting with Bashar al-Assad in Sochi, agreeing on the need for a new constitution and new elections. Putin has also proposed a congress between the warring sides. But, the opposition argues that holding parallel discussions is counter-productive as the political process should remain focused on Geneva.
Considering Russia's successful pro-Damascus military intervention, the opposition is under enormous pressure to drop demands for Assad's removal which may now be untenable. Putin's plan to end Russia's active military phase this year has encouraged speculation that the opposition may indeed soften its stance.
While not expecting an immediate breakthrough, UN-mediator Staffan de Mistura has said this could be the first "real negotiation".
FRESH START?
Uhuru Kenyatta to be sworn in for second term
Uhuru Kenyatta will be sworn in at a ceremony in Kasarani today.
Kenyatta's inaugural speech will likely contain a pitch to end economic stagnation resulting from a severe drought and the prolonged election crisis. While the national treasury has reduced this year's growth target from 5.9% to 5.1%, the economy has demonstrated resilience thanks to the efforts of micro-medium enterprises in wholesale, retail, transport and others. Operating in the informal sector, they contribute 18% towards annual economic output.
Meanwhile, opposition leader Raila Odinga will be leading a memorial in Embakasi for 26 protesters killed by police following his boycott of October's election re-run—its result upheld by the high court last week. He accuses the Jubilee party government of sponsoring police brutality to deter his supporters.
The Kenyatta-Odinga dispute will likely continue since the latter refuses to recognise Kenyatta's legitimacy. Without reconciliation, this could further enflame socio-political divisions and risk greater economic decline.
HAPPENING ELSEWHERE…
Fed Chair pick Powell faces Senate confirmation hearing
Donald Trump's pick to lead the Federal Reserve will face a Senate confirmation hearing today. Jerome Powell, a 64-year-old Republican is expected to continue incumbent Janet Yellen's policy of slowly hiking interest rates and selling $4.5 trillion of assets, which the central bank has accumulated since the 2008 financial crisis. Investors will be looking to today's hearing for any signs of slight readjustments to financial regulation.
French lawmakers are expected to pass controversial labour reforms.
Indian PM Narendra Modi will inaugurate the Hyderabad Metro today—the latest in a string of large infrastructure projects in the subcontinent.