Plus: Donald Trump explores 'ultimate' deal with Palestine's president.
---
CAN SHE CLOSE THE GAP?
FRENCH HOPEFULS DUEL ONE LAST TIME
With five days before the final showdown, Emmanuel Macron and Marine Le Pen face off in their final TV duel on Wednesday.
Macron, who beat Le Pen in the first round by three percentage points, is widely expected to clinch victory in Sunday's runoff vote; The Economist has gone so far as to give the National Front leader a mere 1% chance of victory.
However, Le Pen has since made progress. She will undoubtedly benefit from the elimination of leftist candidate Jean-Luc Melenchon, whose protectionist platform – including lowering the retirement age, increasing tariffs and holding a vote on leaving the EU – is similar to her own. While Melenchon urged his supporters not to vote for the National Front, diehard left-wing voters will view Le Pen as the only choice when confronted by Macron, a business-friendly economic reformist.
After being promised the prime ministership on Friday, prominent right-wing lawmaker Nicolas Dupont-Aignan joined Le Pen's campaign and could help her attract conservative, middle-class voters.
But despite Le Pen's improving prospects, her chances are slim (although perhaps not 1%). She's likely to attack Macron ferociously on Wednesday, but it won't be enough to close the gap.
A RENEWED PUSH FOR PEACE
TRUMP MEETS PALESTINIAN PRESIDENT
Palestinian President Mahmoud Abbas will travel to the White House on Wednesday to explore options for peace in his homeland with Donald Trump.
Trump alarmed Palestinians in February when he shrugged off the two-state solution and threatened to move America's embassy in Israel to Jerusalem – the disputed capital of both Israel and a future Palestine. But 100 days in, the Trump administration has stalled the embassy move, warned Israel against settlement-building and suggested an increase in economic aid to the Palestinian Authority.
But Abbas still faces a legion of staunchly pro-Israel administration officials, including senior advisor Jared Kushner, ambassador to Israel David Friedman and UN representative Nikki Haley. Meanwhile, the Israeli government ignored American warnings, announcing another 15,000 settlement homes on Friday.
Wednesday's discussions will likely focus on restarting peace talks. On Monday, Hamas – which controls the Gaza strip – announced it was retracting a section of its charter that vowed to destroy Israel. Mr Trump badly wants to be the president to finally solve the decades-old conflict and will likely use this to pressure Israel to resume negotiations.
Dig deeper: Palestine: a long road to unity
ALLIES OF CONVENIENCE
ERDOGAN AND PUTIN TALK SYRIA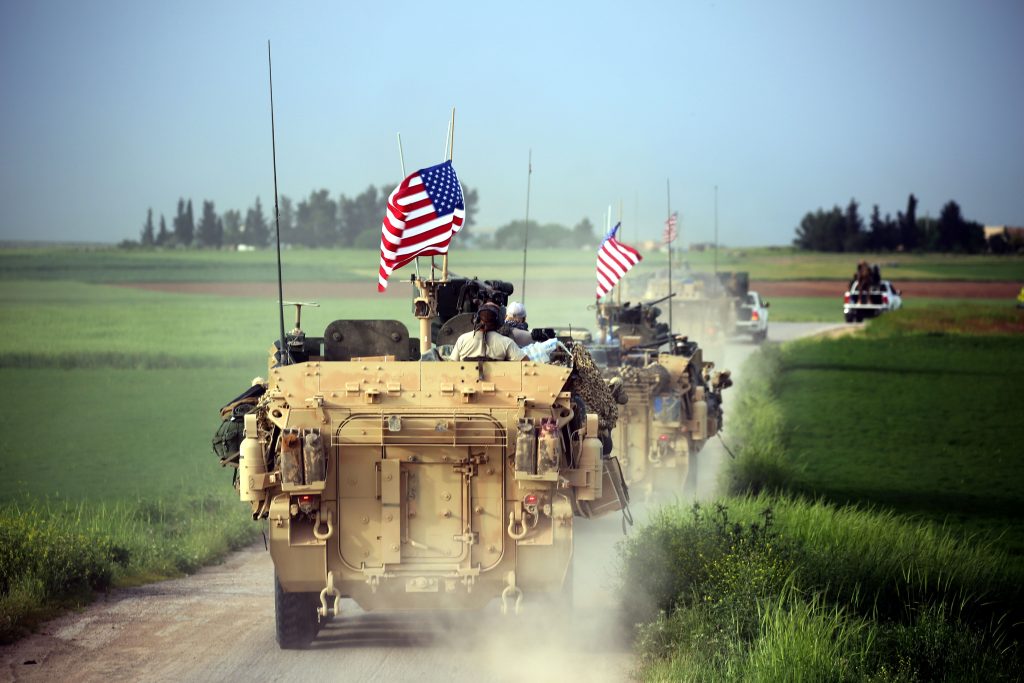 Photo: Getty
Syria will dominate discussions when Vladimir Putin and President Erdogan meet in Sochi on Wednesday; the latest round of intra-Syrian peace talks will run simultaneously in Astana. Despite disagreements over Bashar al-Assad's future in a post-war Syria, Turkey and Russia are likely to move ever closer as they both come to terms with the emerging Trump paradigm.
While Moscow periodically reiterates its willingness to co-operate with Washington in Syria, as well as on broader counterterrorism issues, relations between the two have faltered since President Trump ordered a missile strike on April 6.
For his part, Erdogan opposes the recently announced American patrols along the Turkish-Syria border – an attempt to prevent a repeat of last week's Turkish air strikes on American-allied Kurdish fighters. Syrian Kurdish militants are crucial to an impending push to reclaim ISIS-held Raqqa but are deemed 'terrorists' by Turkey.
With converging interests in seeing American influence marginalised in Syria while also tending to their own self-interests, Messrs Erdogan and Putin will have much to discuss on Wednesday. Away from Sochi, senior officials will attempt to corral various Syrian groups to play nice in Astana – no mean feat.
HAPPENING ELSEWHERE…
America's central bank will issue its interest rate decision and an accompanying statement on the state of the economy. Rates are likely to be kept on hold at 1%. Investors will be looking for signs as to whether the Federal Reserve will hike rates in June – a very real possibility.
More protests attracting hundreds of thousands of people are expected in Venezuela. On Monday, President Nicolas Maduro announced he would begin the process of establishing a people's assembly to rewrite the constitution.
The three-day World Economic Forum on Africa will begin in the South African city of Durban. Top officials and regional CEOs will discuss the challenges and opportunities the continent presents, including infrastructure challenges, geographical dispersion and difficulty attracting investment.