Russian politics and foreign policy will take centre stage for in 2018.
CONFLICT IN UKRAINE: KIEV INTRANSIGENT, MOSCOW LOOKING FOR AN EXIT
The path to a formalised, mutually agreeable cessation of hostilities in Ukraine in 2018 will be convoluted and protracted, with a frozen conflict more likely to emerge. Reports that Ukraine has been violating the ceasefire in the east with increasing frequency signal Kiev's willingness to escalate tensions with Russia in the Donbas. The severing of electricity supplies to a pumping station in Luhansk by a Ukrainian government-controlled utility company, effectively cutting the region off from water supplies, seems to further demonstrate Kiev's resolve.
Don't expect Kiev to lead the way in pursuing cooperative measures with Moscow to seek a 2018 resolution to hostilities. The Ukrainian legislature has said it intends to sever diplomatic ties with Russia, while the Ministry of Economic Development has recently sanctioned 18 Russian companies.
On the other side, the Kremlin may look for a way out of the Donbas in the upcoming year. Putin's Novorossiya project – laying the groundwork for a secessionist state across southern Ukraine – has not been a success. Instead, it has led to the consolidation of Ukrainian resolve and resistance.
As the West starts to provide Ukraine with defensive weapons – something policymakers seem willing to do – the Kremlin will likely begin to pay a higher price in Russian lives to maintain the status quo in the Donbass. Putin is unlikely to accept this cost leading into the 2018 presidential election. Putin's September peacekeeping proposal for the region suggests the Kremlin is looking for ways to cut their losses. If the US utilises its recent Russia sanctions bill to target the oligarchs complicit in Russia's aggression in Ukraine, then they may place additional pressure on Putin, causing him to expedite the search for an exit from the conflict.
CENTRAL ASIA: DISCOMFORT WITH CHINA'S GROWING PRESENCE
In the face of ongoing Western sanctions, the Kremlin will continue to pursue avenues of economic engagement with China's Belt and Road Initiative (BRI) in the Eurasian heartland. Moscow will focus on further integrating BRI into its pre-existing multilateral economic structures and ambitions, like the Eurasian Economic Union (EEU) and the 'Greater Eurasia' partnership. Russia's engagement here will be driven by uneasiness at Beijing's growing clout in the Central Asian region, which Moscow considers its traditional and immutable sphere of influence.
This uneasiness may grow in 2018, as to date Beijing has provided minimal tangible, mutually beneficial linkages for Moscow within the context of BRI expansion. Not one of over 40 of Russia's proposed investment projects related to China-EEU-Europe connectivity has been given the green light by Beijing, despite Xi and Putin signing a political declaration in May 2015 linking BRI to the EEU.
The Free Trade Agreement signed in May between China and Georgia was a seminal moment in China's push into the Eurasian heartland. This FTA, the first Chinese FTA in the region, could potentially allow Georgia to overcome its traditional dependence on the Russian market by becoming a key hub in the BRI.
If China's investment spree in the region continues without substantially integrating Russia, Moscow will grow increasingly concerned over the mounting risk of a substantial Russian loss of market share and influence over the region's valuable natural resource industries. Given its pariah status with the West and associated sanctions, Russia has minimal economic leverage to push back against growing Chinese clout in Central Asia and will therefore have little choice but to acquiesce to Beijing's designs for the region.
RUSSIA IN THE MIDDLE EAST: THE NEW PREDOMINANT REGIONAL POWER?
Moscow will continue to present itself as a more reliable mediator of the region's disputes than the US, whose current haphazard and distracted approach to the region is unsettling regional leaders. Furthermore, Kremlin aid, especially in the form of military infrastructure, will not come with the conditionality typically attached to US military aid. This may mean that Russia's former Cold War adversaries – Turkey, Egypt, Saudi Arabia and Israel – will become increasingly open to developing deeper ties with Moscow.
Russia's quid pro quo for playing a more active role in Middle Eastern issues will firstly involve entrenching a greater demand for Russian goods and services, especially arms exports and nuclear power plants. The longer-term Russian ambition involves increasing the prominence of the Middle East in the Kremlin's geo-economic strategy. This will involve replacing Ukraine with Turkey as a key transit hub for Russian energy exports to Europe as well as continuing to pursue investments in Libya and Iraq to bolster Russia's ability to export oil to Europe. Additionally, Moscow harbours ambitions to establish an energy transport route that will connect it to the Persian Gulf.
Saudi Arabia is emerging as a key partner of Moscow in the Middle East. Riyadh recently announced a slew of upcoming multibillion dollar infrastructure and technology investments in Russia – an essential source of financial support for Russia in light of continuing Western sanctions. It is clear that this burgeoning partnership is very much one of convenience. Riyadh needs Moscow's support to boost oil prices and Moscow needs Riyadh's support in order to further its Middle East ambitions. Regardless, these interests will be strong enough to sustain the relationship in the near term at least.
Moscow's deepening relationship with Riyadh may begin to complicate its relationship with Iran. While Ayatollah Khamenei is interested in deepening Iran's connection with Moscow beyond the traditional surface-level anti-Americanism, Tehran will be wary of Russia's military hardware deals with Riyadh, particularly as Saudi-Iranian regional competition intensifies.
The power balance in the Middle East may tilt in Russia's favour in 2018. A key test case to watch will be Syria, where the US has seemingly narrowed its goal to eliminating ISIS while Russia has formed a much broader and ambitious political agenda for the country.
US-RUSSIA RELATIONS: ESCALATING TENSIONS AND ONGOING DIPLOMATIC SABOTAGE
Despite initial hopes that the Trump presidency would herald a new era in US-Russia relations, sanctions have remained firmly in place and US investigations into Russian interference in the 2016 presidential election are ongoing, souring ties further.
The political tug of war over diplomatic staffing in each nation will continue into 2018. Washington's 2016 decision to deport Russian diplomats and 2017 seizure of Russian diplomatic compounds resulted in a tit-for-tat restriction of US diplomatic staff in Russia. US consulates halted operation in three Russian cities in August and, even though they have now resumed work in limited capacity, the US diplomatic corps in Russia remains dissatisfied with the cuts to its staff by Russian authorities.
The US is not about to loosen sanctions targeting Russian citizens soon. A detailed list of Russian oligarchs and senior officials who may have had an influence on foreign policy is to be presented to the US Congress by February 2018. Those on the list will likely be subject to sanctions, travel bans and assets freezes.
Both nations have also targeted opposing media outlets. In response to a US government request for media channel Russia Today to be registered as a foreign agent, Russia banned US media including Voice of America and Radio Free Europe/Radio Liberty from entering the State Duma. Putin has also given authorities the right to label foreign media outlets as 'foreign agents', and force them to disclose their sources of funding. These actions may have plateaued but do not be surprised if each side undertakes further measures against foreign-backed media.
The US will continue to seek greater cooperation from Russia on the issue of North Korea's nuclearisation. But while President Trump sees Russia as an ally in a fight against a common enemy, the feelings of the Russian leadership are not as optimistic. Putin, during a recent press conference, blamed the North Korea crisis on poor US diplomacy and stated that Russia is not inclined to help while sanctions are in place.
Relations between Moscow and Washington have further soured over suspicions that Russia has deployed an intermediate range, ground-launched cruise missile in violation of the Intermediate-Range Nuclear Forces Treaty (INF). In counterpoint, Russian leaders have claimed that US defensive missile systems in Europe are also a violation of the pact. Consequently, the INF, an icon of easing Cold War tensions, could face the chopping block in 2018.
THE RUSSIAN ELECTION: DEJA VU WITH A TWIST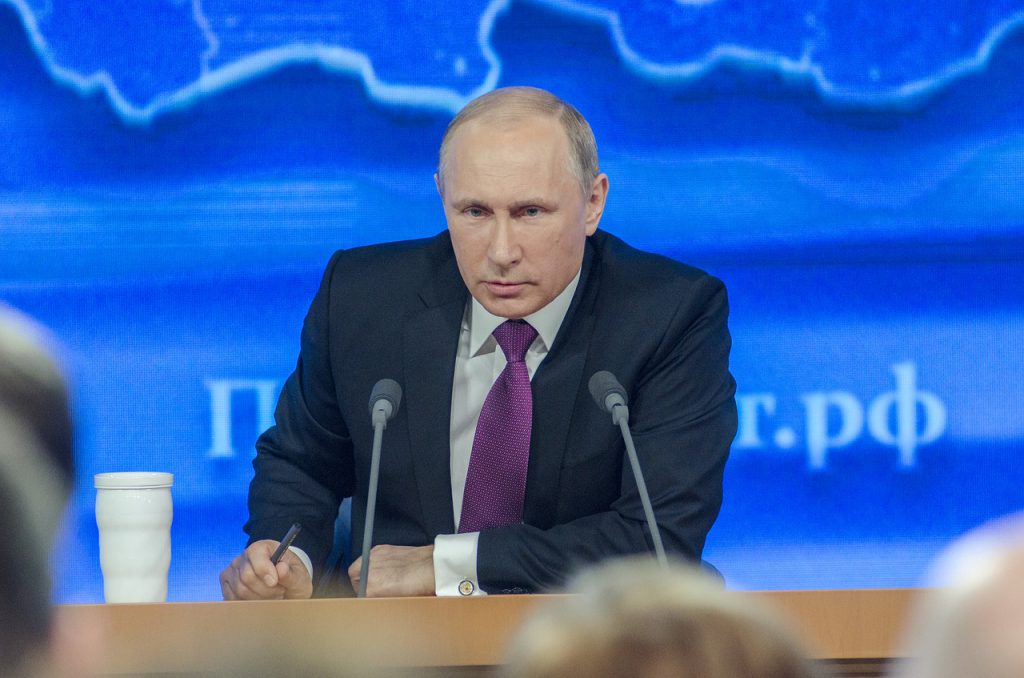 With Putin recently announcing his candidacy for the March 2018 elections, expect few surprises as to the outcome.
Many of the candidates appearing on the ballots next year have a track-record of running unsuccessfully. A new addition to the ballot is Ksenia Sobchak, a television host turned politician. Following in the footsteps of her father – the first democratically elected mayor of Saint Petersburg – she has put her candidature forward to create a much-needed opposition to the current ruling party, United Russia. Her victory is unlikely, but a future career in politics would serve as a platform to openly question Putin's policies.
It is unlikely that the upcoming elections will shake up Russian foreign policy; Putin's re-election is almost certain. His approval rate remains high among Russians who, in a recent survey, expressed high confidence in Putin's handling of foreign affairs. Rather, expect Russia to seek to expand its presence in areas beyond its traditional sphere of influence by framing itself as an alternate partner to the West.
Putin may choose a new prime minister in 2018. Dmitri Medvedev's position in power has weakened following corruption accusations and a number of political faux pas in relation to the Crimean annexation. With a new six-year term, Putin may choose another from his inner circle to serve. He will likely seek a loyal candidate who is popular with the public and has a track record of success with domestic policy – likely a minister or mayor of a large city – to offset Medvedev's poor standing and to portray an image of change in the Kremlin.
RUSSIAN ENERGY DIPLOMACY: A CUT IN THE WEST AND AN ADVANCE IN THE EAST
Russia, as the world's largest crude oil producer, will increasingly look in 2018 to counterbalance the impact of US and EU sanctions by expanding into eastern markets.
Russian state-owned oil companies, including Rosneft, Transneft and Gazpromneft, continue to feel the brunt of Western sanctions imposed in response to Russia's annexation of Crimea and other activities in Ukraine. US sanctions have also been detrimental to European energy markets, making it harder for Russia to continue building new gas pipelines into European countries. Russian oil and gas projects are unlikely to cease because of sanctions, though Western energy markets will become less favourable for Russian companies.
In comparison, Russia's eastern markets are rapidly developing and will continue to do so in 2018. China's growing energy needs have provided incentive for deals between Chinese and Russian energy companies – CEFC China Energy recently invested $9.1 billion in Rosneft shares. Yet Russia will not be able to take full advantage of these developments after a historic deal between OPEC and other large oil producing countries (including) saw participants agree to cut oil output end of 2018.