After "Georgian Dream" win, opposition dreams deferred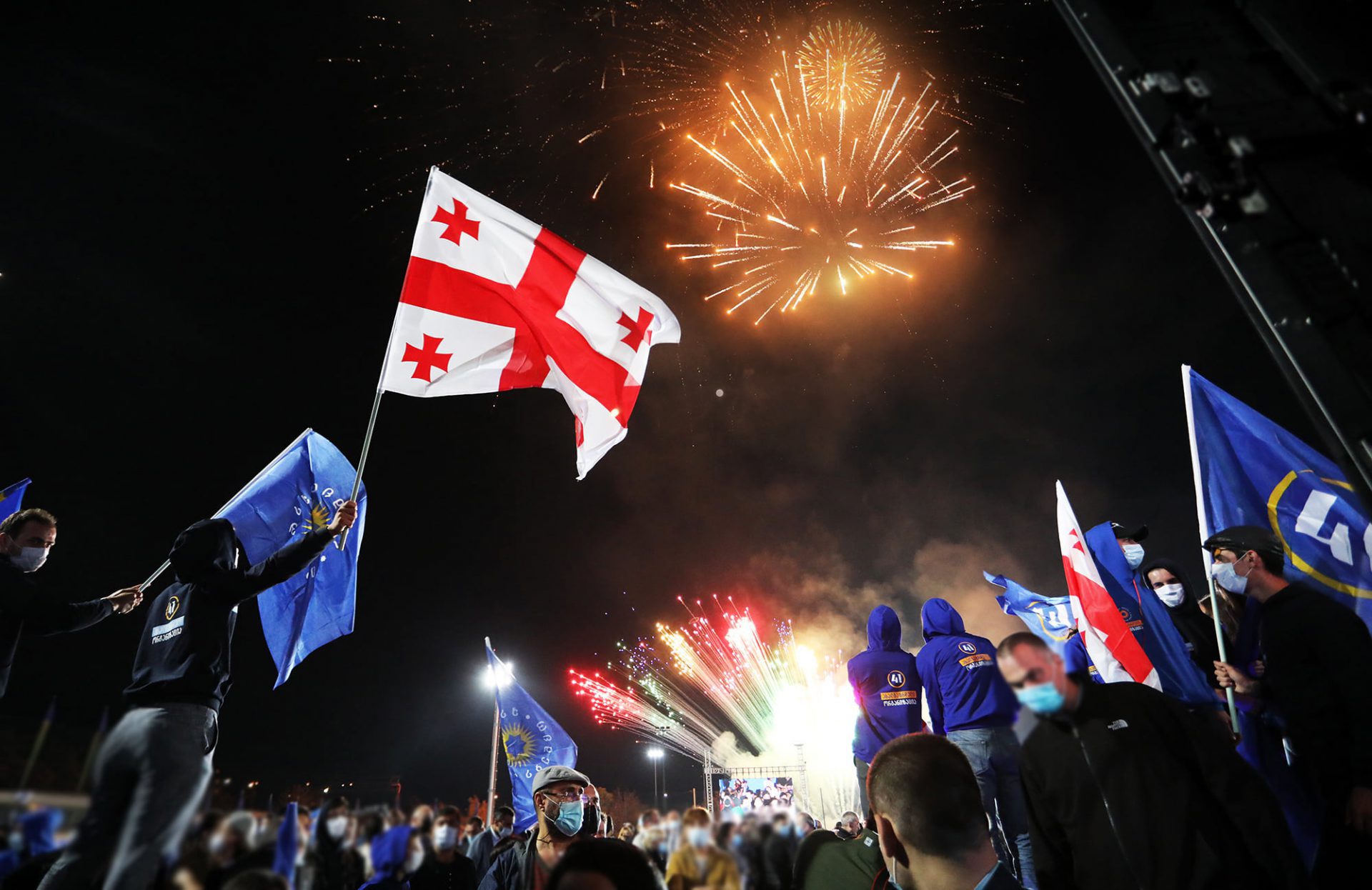 WHAT'S HAPPENING?
Following protests and an opposition boycott, the ruling Georgian Dream cemented its majority in the parliamentary elections and was the only party present at the first session of the new parliament on December 11.
KEY INSIGHTS
– Georgian Dream is unlikely to make concessions, such as scheduling new elections, and elected opposition MPs will most likely not take up their mandates in parliament
– An extended political crisis and a prolonged 90-member, one-party parliament is likely
– A lack of plurality in parliament and COVID-19 restrictions will facilitate unopposed policymaking by Georgian Dream, which could include closer relations with Russia
– A one-party parliament could undermine Georgia's international image and ambitions for Euro-Atlantic integration
PRESSURE, PROTESTS, AND THE NEW PARLIAMENT
Recent elections in the former Soviet Republic of Georgia have roiled the Caucasian nation. The two rounds of voting followed the introduction of a system of greater proportional representation, which was pushed by the opposition, the US and the EU as a way to foster plurality. Georgian Dream won over 48% of the vote, while the more overtly pro-European United National Movement (UNM) opposition bloc, founded by former president Mikheil Saakashvili, gained just over 27%. The European Georgia party won the remainder of the vote, with approximately 3.8%. The ruling Georgian Dream party, backed by powerful oligarch Bidzina Ivanishvili, has been in power since 2012 and has a multi-vector geopolitical bent.
Citing irregularities and instances of ballot stuffing in the first round of elections on October 31, opposition parties launched mass protests that continued throughout November. The Organisation for Security and Co-operation in Europe stated that its observation mission found the election to be competitive, although it condemned alleged pressure on voters and other measures that undermined confidence in election systems. The opposition parties boycotted the November 21 runoff elections — unsurprisingly, all 17 seats that were contested during the round went to Georgian Dream.
On November 27, opposition leaders announced that no additional protests would take place in December due to new COVID-19 restrictions that would come into effect the following day. Although the opposition agreed to several new rounds of negotiations facilitated by the US and EU ambassadors, no concrete agreements have yet been reached. Many elected opposition members of parliament (MPs) have signed a memorandum or made separate public statements declaring their intention to reject their parliamentary mandates with the aim of forcing a one-party parliament. The few remaining opposition MP-elects have boycotted their seats in parliament while holding off on officially rejecting their mandates until talks are concluded. As a result, the Georgian Dream MPs were the only representatives in attendance at the first parliamentary session on December 11.
A COMPROMISE OR EMPTY SEATS?
Some in the Georgian opposition have emphasised their openness to the ongoing negotiations, but insist that the ruling party approach talks with a concrete proposal that includes specific concessions such as electoral reform. Others say that the crisis will only be resolved if new elections are held in the (northern) spring of 2021. However, observers such as former state minister for reconciliation and civil equality Paata Zakareishvili seriously doubt that Georgian Dream will concede to schedule new elections. Zakareishvili also cites previous instances in which the ruling party has reneged on agreements it has reached with opposition, such as the promise of fully proportional elections. The halting of mass protests due to COVID-19 restrictions will likely further undermine the opposition's leverage.
According to Georgian Dream party leader Irakli Kobakhidze, a mechanism in the constitution could also be deployed to force the opposition's participation in parliament despite their stated intention of rejecting their mandates. This mechanism supposedly would involve a threshold of 76 MPs — easily achieved as Georgian Dream holds 90 seats — to confirm the mandates of all 150 parliamentary representatives. Only then, Kobakhidze claims, could MPs submit letters of resignation, which would require the permission of the parliament.
However, opposition leaders and constitutional law experts dispute this claim that elected lawmakers could be forced to join parliament against their will. This disconnect in constitutional interpretations may result in an even more severe deadlock and polarisation in the near future, as opposition politicians refuse to take their seats while Georgian Dream publicly accuses them of violating the law. Such a development could make the continuation of talks and an eventual compromise even less likely. These factors will likely result in the continuation of what is now a de-facto one-party legislature, with Georgian Dream left alone at the helm.
A ONE-PARTY PARLIAMENT: IMPLICATIONS FOR POLICY
In practical terms, 90 MPs could legally perform many of the functions of the 150-member parliament, including appointing a government, passing laws and forming committees. Without the presence of the opposition in parliament, Georgian Dream would be essentially unhindered in its enaction of policy. In geopolitical and external terms, Georgian Dream policy has so far been characterised by friendlier rhetoric toward and relations with Russia, including restored transport links. These developments, coupled with an address by Russian MP Mikhail Gavrilov from the chair of the Georgian parliamentary speaker, sparked protests in 2019, which were harshly suppressed by the government. Under COVID-19 restrictions, however, official opposition to Georgian Dream policy is unlikely to have the avenue of mass demonstrations at its disposal.
Challenges to the ruling party's foreign policy will be hindered both within and outside of the parliament, and Georgian Dream may capitalise on the situation to strengthen ties with Russia to an even greater degree. Despite its advocacy for improved people-to-people relations, however, Georgian Dream has held firm to the country's lack of diplomatic relations with Russia over Moscow's recognition of the Georgian breakaway territories of Abkhazia and South Ossetia as independent states following the 2008 Russo-Georgian War.
Without a constitutional majority, Georgian Dream would be unable to impeach the president or change the Georgian constitution. It also would not be able to pass constitutional laws or ratify or annul agreements related to Georgia's territorial integrity, or form a commission of inquiry without members of the opposition. Although there have been few large-scale developments in recent years in terms of agreements that might resolve the status of Abkhazia and South Ossetia, the inability to reach or annul accords or pass constitutional laws on the matter further undermines the Georgian government's leverage and agency. This is especially relevant as COVID-19 renders the breakaway territories more and more dependent on Russia and isolated from Tbilisi, as officials continue to cite illegal borderisation by Russia, and as the next round of scheduled Geneva talks on the issue approaches in early 2021. Meanwhile, the lack of commissions of inquiry could lead to a concerning absence of accountability in the government.
Beyond these practical concerns, the one-party parliament could have serious implications in terms of international perception and cooperation. This situation would erode the image of Georgia's democratic system and likely make Western countries more hesitant to engage with its leadership. Furthermore, as both official EU and US representatives have urged the opposition to take up their mandates, the pro-European opposition may find that a one-party parliament negatively affects its own working relationships with and support from Western institutions. A perceived or actual intractable political crisis in Georgia over the long term could also slow or halt efforts and existing processes toward further Euro Atlantic integration.
In pursuing a course of action aimed at calling the legitimacy of Georgian Dream's path to power into question, the Georgian opposition may delegitimise its own cause in the eyes of the international community.
Any views and opinions expressed in this article are those of the author and do not necessarily reflect the position of Internews.