Bishkek, betwixt and between: wither President Japarov?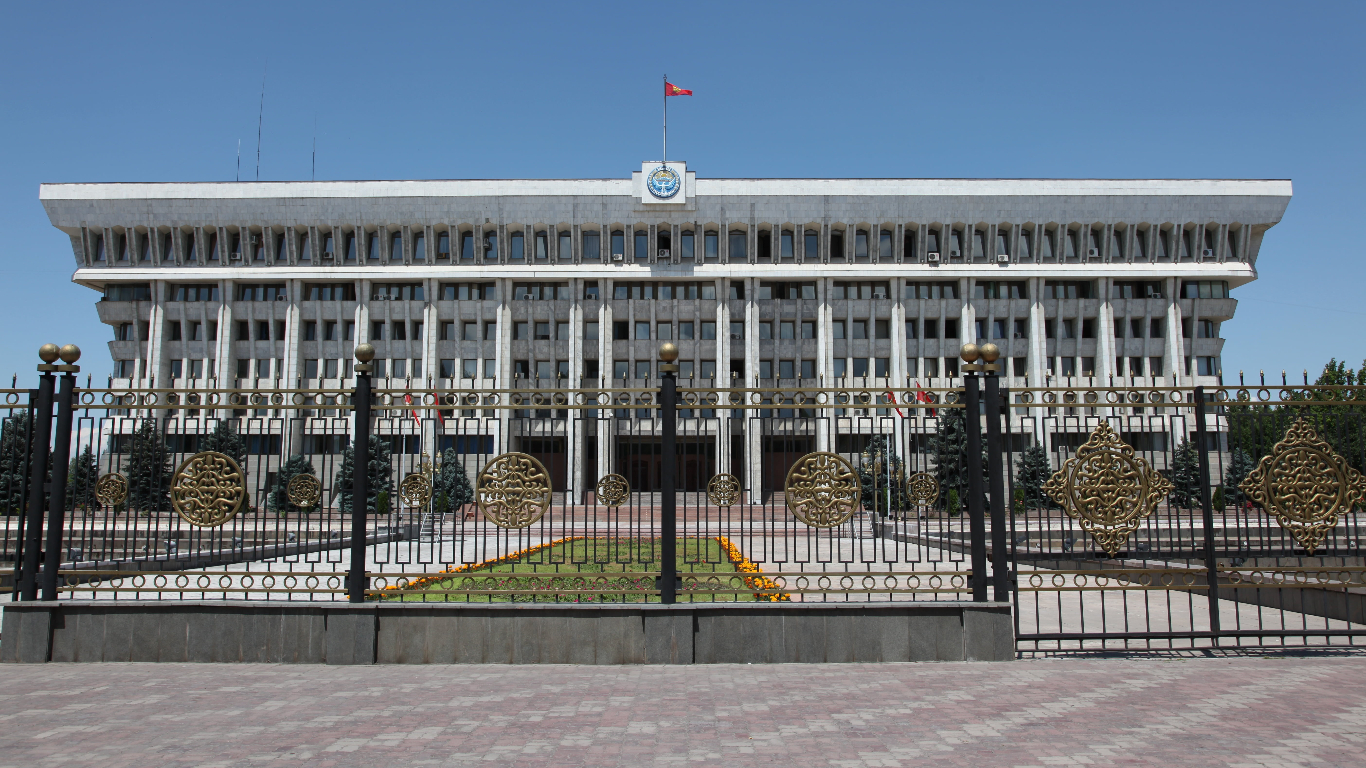 WHAT'S HAPPENING?
Former Kyrgyz Republic MP Sadyr Japarov took office as interim president on October 16 after protests prompted President Sooronbay Jeenbekov to resign. Soon after coming to power, Japarov oversaw the high-profile arrests of politically influential underworld leaders and instituted anti-corruption measures that will likely prove key in the new elections scheduled for early 2021.
KEY INSIGHTS
– Sadyr Japarov will continue to pursue anti-corruption measures, but they will likely be superficial
– If the public is sceptical of these measures, it is less likely that Japarov will be confirmed as president in upcoming elections and that a transition to a presidential system will be approved via referendum
– Initial caution on the part of Russia has given way to a commitment to continued ties
TRENDS IN TRANSITION
Protests erupted in the Kyrgyz Republic following the October 4 parliamentary elections, which were allegedly marred by vote-buying and other violations. President Jeenbekov's Birimdik party and the Mekenim Kyrgyzstan party had won a controlling majority, but these results were later nullified. Protesters went on to free security service prisoners including former MP Sadyr Japarov. Prime Minister Kuratbek Boronov resigned, and Jeenbekov approved Sadyr Japarov as Boronov's replacement. Further pressure prompted Jeenbekov himself to step down on October 15, and Japarov assumed the role of interim president a day later.
New presidential elections have been scheduled for January 10, and Japarov has stated that he will step down in December in order to circumvent measures that currently bar interim presidents from running for a full presidential term. New parliamentary elections have been postponed until March 2021. Japarov has also voiced support for constitutional amendments that would change election rules and move the parliamentary system to a presidential model, changes that observers say necessitate a referendum.
Sadyr Japarov's rise to power marks the third revolution in fifteen years: the 2005 post-election Tulip Revolution and 2010 protests, both of which were motivated by corruption and economic crises, also resulted in transitions of power. The 2010 protests led to the election of Almazek Atambayev as president in 2011, and his handpicked successor, the recently ousted Jeenbekov, took office in 2017 in the first peaceful transition of power in many years.
CORRUPTION, INVESTMENT, AND A JAPAROV PRESIDENCY
Despite the auspicious circumstances of Jeenbekov's inauguration, his administration oversaw the arrest of his predecessor, Atambayev, and various Atambayev allies. One such ally was former prime minister Sapar Isakov, also recently freed by protestors. In 2017, Isakov fired influential political financer Rayimbek Matraimov from his customs post for allegedly embezzling nearly $700 million. Matraimov was widely believed to have financially backed both Jeenbekov's Birimdik party and the Mekenim Kyrgyzstan party, including in the recent election campaign. Largely left alone by the Jeenbekov administration, Matraimov was unexpectedly arrested by the new Kyrgyz Republic authorities on October 20. However, he was immediately transferred to house arrest, and the $24 million in damages that prosecutors claim he is already repaying to the government is many times less than the amount that many believe he siphoned out of the Kyrgyz Republic.
Japarov has pledged to fight corruption, but is himself suspected of having ties to organised crime. He was convicted of kidnapping a governor in 2013, though that act was in connection with protests against a Karakol gold mine project. One suspected backer of his rise to power, powerful gangland leader Kamychbek Kolbayev, was arrested on October 22 in a strikingly calm encounter filmed by security services and, like Matraimov, was transferred to house arrest. Japarov's alleged ties to the underworld throw his recent announcement of "economic amnesty" for former government officials who gained their wealth through corruption into starker relief. This policy, put forward just one day after Matraimov's arrest, stipulates that offenders who voluntarily declare and return money obtained through corruption will be granted administrative and financial pardons. Corrupt former officials who do not participate in this economic amnesty process will supposedly be prosecuted under the full force of the law.
Amnesty of this kind may indeed be an effective way to establish a "clean slate" and incentivise a shift in the political culture. However, the recent appointments of his close friend Kamychybek Tashiyev as head of the State National Security Committee and of his allies Kurmankul Zulushev as General Prosecutor and Bekbosun Apsatarov as the head of the reconstituted GNKB anticorruption service could compromise the full independence of these efforts. The Japarov allies heading these bodies may still be selective about those they choose to prosecute outside of this mechanism, and, if the cases of Matraimov and Kolbayev are any indication, will likely exercise a loose grip on those they do pursue. Similar amnesty measures in Uzbekistan and Kazakhstan have been suspected of being tainted by backdoor deals with the corrupt officials in question.
If recent efforts to crack down on corruption serve primarily as a messaging effort to allow Japarov to distance himself from his current gang-related image, meaningful progress in fighting the most egregious instances of graft may be stymied. The integrity and thoroughness of a recent probe into the energy industry's purchase of substandard coal will also serve as an important indicator of whether Japarov's elite will take on the coal industry, a sphere that has long been marked by gangland power grabs. New foreign investors and potential energy partners may be attracted to what they perceive as a market in the process of cleaning up its act, but will likely continue to face similar obstacles that dissuade them from doing business in the Kyrgyz Republic.
The extent to which the Kyrgyzstani populace is convinced as to the legitimacy of Japarov's anti-corruption efforts vis-à-vis his suspected gangland ties may also impact the outcome of his presidential run as well as a referendum on constitutional changes that would strengthen presidential power. If these efforts fail and the public remains unconvinced, the Kyrgyz Republic may experience yet another change of leadership while retaining its parliamentary system.
NEW LEADERS, OLD NEIGHBOURS
Russia has so far approached the situation with caution. Several days before Japarov took power, a Russian Finance Ministry official stated that Moscow had decided to pause financial aid to Kyrgyzstan until the situation there had stabilised. Japarov is also the first leader to come to power in the Kyrgyz Republic in recent years who was not given the overt approval of Moscow.
Nevertheless, Japarov has consistently stressed the importance of the Kyrgyz Republic's strategic partnership with Russia and his commitment to maintaining strong bilateral ties. Although Jeenbekov had several phone conversations with Russian President Vladimir Putin early on in the crisis, both Japarov and Jeenbekov were at the table at an October 13 meeting with Kremlin Deputy Chief of Staff Dmitry Kozak in Bishkek. This suggests that Moscow, despite its efforts to establish strong relations with Jeenbekov during his administration, was also open to forging a relationship with his eventual successor.
Russian messaging narratives are key to understanding Moscow's approach to these events. The phrase "colour revolution," oft deployed to describe political unrest in a region opposed by Moscow, has been largely absent from Russian official statements on the protests and power transition in the Kyrgyz Republic. The narratives at play on both sides are reminiscent of the ascent of Armenian Prime Minister Nikol Pashinyan in 2018, who likewise expressed a desire to maintain close ties with Russia very early in his bid for power and was able to effect a transition and retain bilateral relations without Moscow crying foul. A similar continuation of close relations with Russia is the most probable outcome for the new Kyrgyz Republic leadership.
The recent transition of power will likely result in a continuation of the geopolitical status quo in the Kyrgyz Republic, but Japarov's hold on power and future foreign investment will likely hinge on the success of his anti-corruption efforts. Given the rapid pace of events in the country over the last month, however, how exactly these outcomes will develop in the months to come remains largely indeterminate.
Any views and opinions expressed in this article are those of the author and do not necessarily reflect the position of Internews.