Cooperation or confrontation? The failure of APEC 2018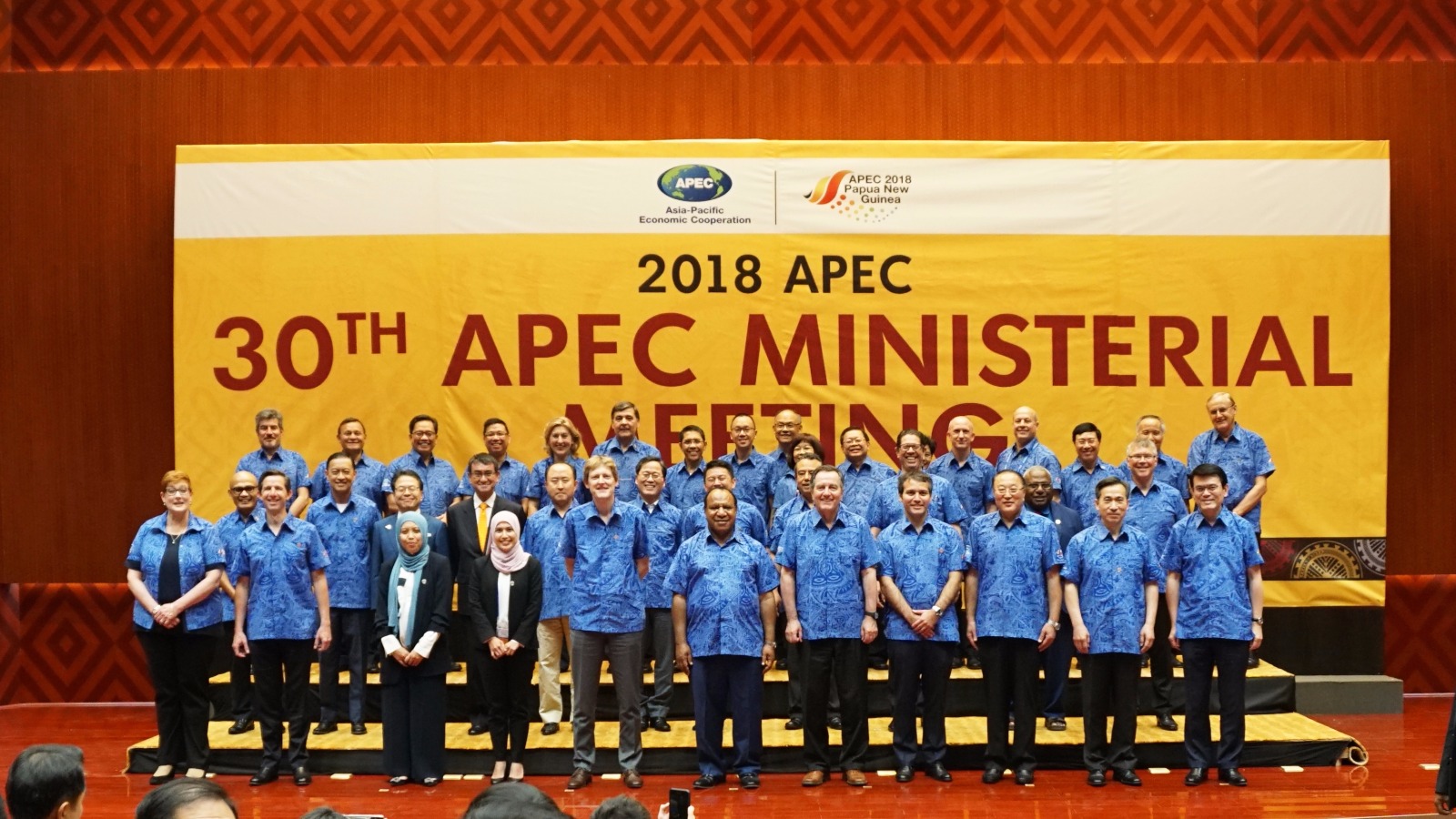 WHAT'S HAPPENING?
Due to irreconcilable differences between the US and China on trade and global governance, the November APEC summit in Port Moresby concluded without a leader's communiqué for the first time in its history.
KEY INSIGHTS
– The US and China sought to use APEC as a platform to expand their economic and military influence in the Asia-Pacific region, each announcing major military base upgrades and large infrastructure spends across the region
– US officials are attempting to establish a renewed Asia-Pacific strategy to present an alternative to Beijing and to reassure allies and partners who are concerned with Donald Trump's constant absence from regional summits
– Great power rivalry, increasingly different regional visions and Trump's America First approach may undermine the effectiveness of APEC and other regional forums
The Asia-Pacific Economic Cooperation (APEC) Economic Leaders' meeting in Port Moresby, Papua New Guinea, brought together leaders and high-ranking officials from over 20 Asia-Pacific economies to discuss trade and economic growth. However, for the first time since APEC's creation, a leader's communiqué – normally issued at the conclusion of the meeting – was not released due to disagreements over the text.
APEC has long served as the Asia-Pacific region's primary intergovernmental forum for free trade and economic issues. Since its creation in the 1980s, APEC has responded to the rapidly growing economic interdependence in the region and pressures on the existing multilateral trading system. In recent years, however, the meeting has become one of the key economic battlegrounds between the US and China, with members beginning to develop increasingly disparate visions for the Asia-Pacific region.
HOW TO BUY FRIENDS AND INFLUENCE NATIONS
The APEC 2018 summit was the first held in PNG, which is by far the poorest member of the grouping. While there was domestic and international concern over PNG's preparedness to chair the summit, namely due to its precarious economic situation, level of development, and crime in Port Moresby, both Beijing and Washington were keen to use the meeting to win economic and military influence in the region.
Separately, China and Australia sought to spend big to win the support of PNG in the lead-up to the conference: Beijing helped to build the International Convention Centre in Port Moresby where many key meetings took place and provided coaches, buses and emergency service vehicles, while Australia provided the bulk of security assistance with naval vessels and aircraft and defence personnel patrolling the streets.
These attempts to curry favour continued through the keynote Economic Leaders' Summit. US Vice President Mike Pence announced that Washington – in concert with Australia – would help redevelop Lobrum Naval Base on PNG's distant Manus Island. Undoubtedly in a reference to Chinese military expansion in the South Pacific, Pence suggested that the redeveloped base would help to "protect sovereignty and maritime rights in the Pacific Islands". Chinese President Xi Jinping came to APEC with $4 billion set aside for roadworks in PNG and several new Pacific Island members of its Belt and Road Initiative, including Vanuatu and Tonga – the latter gaining a five-year reprieve on its $160 million debt to Beijing. Xi also hosted a high-profile meeting with Pacific Island leaders, the details of which have been limited, as media were barred from covering the event.
NOT AT THE TABLE, BUT ON THE MENU
This year's APEC was also dominated by the absence of key leaders, namely US President Donald Trump, who opted to attend commemorations in Paris for the centenary of the end of World War I. Trump's absence has also been felt at other key Asian summits, including the ASEAN-hosted East Asia Summit in Singapore. Analysts have suggested that Trump's absence is problematic, especially when nations in the region are increasingly concerned about declining US regional leadership.
Truancy has been an issue for most of Trump's presidency: while he was present for last year's APEC summit in Vietnam, Trump returned to Washington and skipped the East Asia Summit in Manila. The Trump administration has been increasingly preoccupied with its trade war with China and addressing trading imbalances with Japan and Mexico, passions which have rattled partners in the region. These concerns were exacerbated by the withdrawal of the US from the Trans-Pacific Partnership and Washington's public questioning of security arrangements with regional partners including South Korea and Japan.
Despite Trump's notable absence, the US has sought to reassure nervous allies and shore up its leadership in the region and counter Chinese influence. To push back against Beijing's increasing infrastructure spending and economic governance, lawmakers in Washington passed the BUILD Act in October which established the US International Development Finance Corporation, a rival to the Belt and Road Initiative. US officials have also become far more vocal in their criticism of China, with Vice President Pence warning Asia-Pacific leaders at APEC to "not accept foreign debt that could compromise your sovereignty" and saying the US offers a better option than a "constricting belt or a one-way road".
APEC 2019 AND BEYOND
APEC 2018 was the fruit of close to five years of preparation, with PNG, Australia, the US and China spending big to ensure that facilities and security arrangements were in place for the summit. This long-term investment speaks to the longevity of the underlying regional tensions.
With the failure of attendees to come to an agreement on the communiqué, the future of APEC as a regional forum has come under question, and there is the very real prospect that APEC and other regional summits will descend into platforms for great power rivalry between the US and China. The increasingly irreconcilable visions that are emerging between the two great powers will have further economic and security implications, including the possibility of increased militarisation in the region and Washington and Beijing forcing nations to pick sides. While the G20 summit in Buenos Aires quelled some fears and Washington's announcement that it would not immediately increase tariffs on Chinese goods suggests a possible end to the trade war, Trump and Xi will continue to disagree on their regional visions and compete for influence and strategic dominance.
Despite these competing visions, Trump's apparent disinterest towards the region is clear and Washington's aggressive approach to challenge Chinese influence is doing little to quell concerns over dwindling US leadership. Trump's 'America First' approach to international trade and diplomacy has isolated key allies like Japan, which will reluctantly enter trade negotiations with Washington next year to address its significant trade imbalance. 'America First' could serve to alienate other partners in the Asia-Pacific such as South Korea, which would have a significant impact on the US' military and political sway in the region and allow for powers like China to become more influential. This has already been the case with Pacific Island nations, with Chinese President Xi's private meeting with Pacific leaders and his rock-star reception in Port Moresby suggesting that the region is warming up to Beijing.
Conversely, while Trump himself has lacked interest, US partners in the region have been increasingly active in assuring continuity in the region: the timing for redeveloping Lobrum naval base and announcing plans to bring electricity to 70% of PNG by 2030 are not coincidental. While Washington is faltering, its allies have begun to pick up the slack and ensure that their vison of a free and open region will continue in spite of Trump.
While APEC's future is uncertain, the Port Moresby summit brought many of the region's issues to the fore. The possibility of great power rivalry overshadowing regional development is becoming more and more likely, and members are developing increasingly divergent trajectories for the region which will have significant implications for security and stability. While US allies are moving to slow China's expanding influence and spending on infrastructure, how long they can do so without Trump's steadfast backing is uncertain.