On thin ice: multilateralism and climate change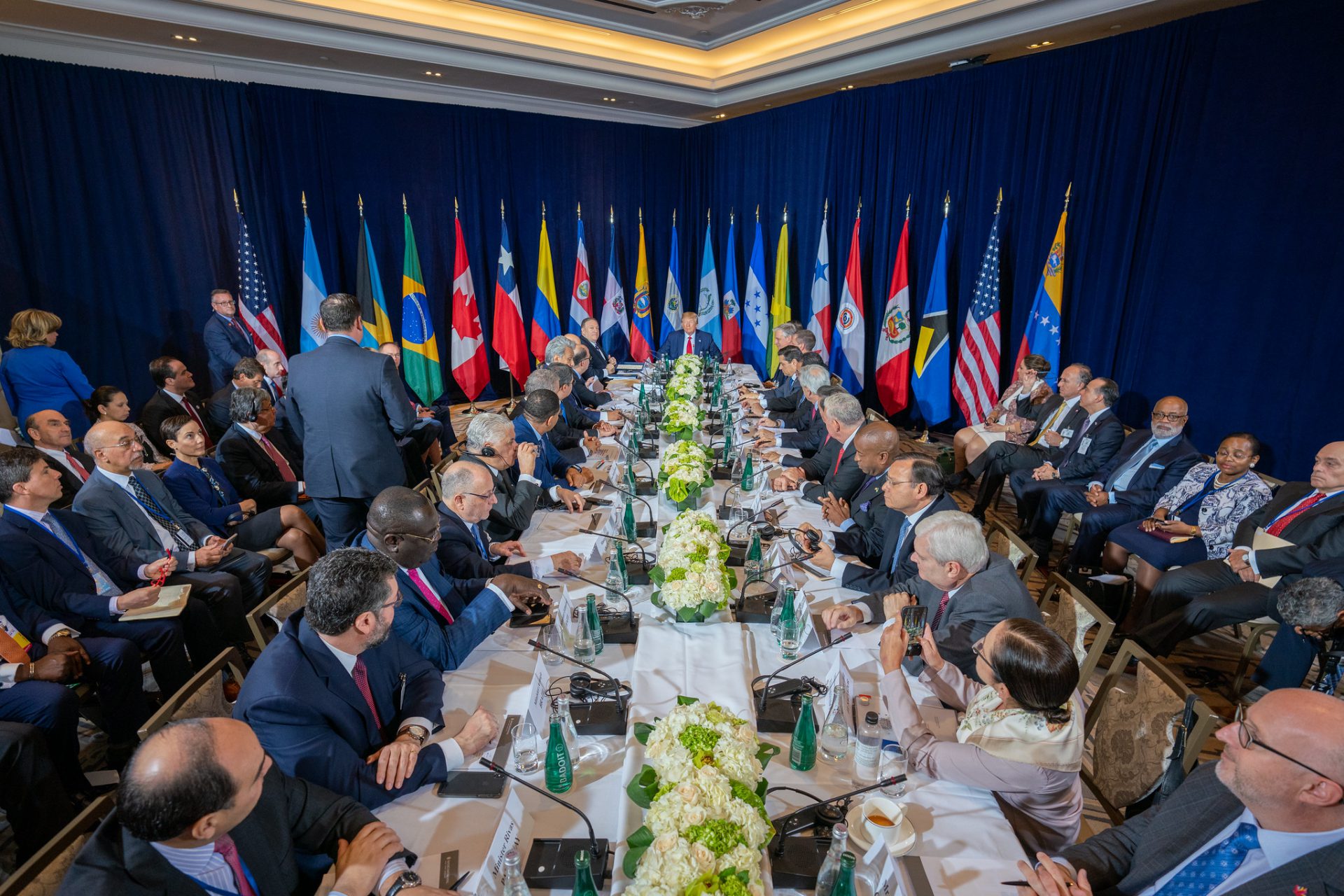 WHAT'S HAPPENING?
The annual general debate of the UN General Assembly was held recently in New York, bringing world leaders together for several key summits including the Climate Action Summit.
KEY INSIGHTS
– Amidst numerous international crises and despite several notable absences, close to 80 nations announced zero-carbon objectives at the Climate Action Summit
– Debates about climate change policy spilled over into the UN General Assembly, where Brazil and Australia were forced to fend off mounting criticism of their environmental stances
– Divisions between developed and developing nations, along with the limited effectiveness of multilateral fora, may hamper more ambitious action on environmental issues
TROUBLE BREWING IN THE BIG APPLE
The general debate of the UN General Assembly has kicked off in New York, with world leaders converging on the UN headquarters to attend several major summits on global issues. While the theme of this year's general debate has been predominantly focused on multilateral efforts to eradicate poverty, provide quality education, boost inclusivity, and take action on climate change, the meetings have unfolded amidst several major international crises. Washington has become embroiled in a major scandal involving President Donald Trump, his advisors and the government of Ukraine, while some of the US' major allies continue to be at odds with one another. The continuing trade war between the US and China and the increasingly hostile relationship between the US and Russia have also cast a dark shadow over the meeting, with neither Russian President Vladimir Putin nor Chinese President Xi Jinping attending the meetings.
Despite the crises, the major issue that has emerged has been that of climate change. After a series of rolling climate strikes across the world and increasingly dire predictions by UN officials over the timelines to prevent catastrophic global warming, a number of world leaders attended the Climate Action Summit hoping to cap the global temperature rise at 1.5°C (35°F) above pre-industrial levels. While close to 80 countries pledged to cut greenhouse gas emissions to zero by the year 2050, the leaders of several major economies did not attend the meetings. The absentees included China, Russia and the US, despite Trump making a surprise appearance at the summit for ten minutes. The US, like other high-polluting developed nations, has often been at odds with multilateral climate action, usually citing economic interests as its priority.
The EU stood out as one of the more ambitious groupings at the Climate Action Summit. However, it too faces internal battles with economic interests. Bold targets to achieve an EU-wide net-zero emissions target by 2050 were blocked by several member states including Poland, which is still economically reliant on coal. Nonetheless, the EU announced that 25% of its long-term budget would be set aside for climate-related initiatives, while French President Emmanuel Macron hinted that France would refuse to table new trade negotiations with nations not complying with the Paris Agreement.
ON THE DEFENSIVE
The contention over climate action flowed through to the UN General Assembly itself, where several world leaders were forced to defend their countries' policies. Brazilian President Jair Bolsonaro, already under pressure over his handling of the Amazon rainforest fires and his increasingly hostile relationship with indigenous tribes, launched an attack on "lying and sensationalist media" for spreading misinformation over the "practically untouched" Amazon. He also suggested that indigenous people were being "manipulated" by foreign governments to prevent them from accessing vast mineral reserves beneath indigenous Amazonian reserves. His accusations were slammed by non-governmental organisations and indigenous leaders, who labelled his comments as "colonialist" and doubling down on "ecocide".
Under similar domestic and regional pressure for his inaction on climate change, Australian Prime Minister Scott Morrison's address to the General Assembly suggested that critics "willingly overlook or ignore" Australia's contribution to reducing emissions. Morrison has focused instead on announcing new models of plastic recycling and marine waste management, with a focus on addressing marine pollution and illegal fishing in the Pacific Islands region. Morrison's speech came after regional leaders lambasted Australia at the Pacific Islands Forum in August; Canberra had sought to buck pressure to develop more ambitious emissions reduction plans despite existential concerns about climate change among Pacific Island leaders. Morrison also shrugged off concerns from UN Secretary-General António Guterres of a "great fracture" between the US and China, saying that Australia would continue to work with its "great and powerful friends" and that it would resist being forced to make a binary choice.
FADING HOPES
A stark divide is emerging between the developing and the developed world on climate change. While many nations, particularly small island developing states, are increasingly vocal over the need to take more ambitious action, many major developed nations are instead putting their economic interests first. Given this divide, it is unlikely that any meaningful action on climate change will occur in time to meet even the less ambitious 2°C limit — many developed states, particularly those that are heavy polluters or rely heavily on fossil fuel extraction, appear unwilling to adopt stronger environmental targets. Complicating the issue is the steady election of climate change denialists, with elites in the US, Brazil and elsewhere bemoaning the 'hoax' of climate change or even suggesting that the "dogma" of climate change is a plot by "cultural Marxists". Their denials of any threat could stifle action even further and erode the broad international consensus that emerged in the wake of the Paris Agreement.
While the divide is becoming more apparent in multilateral fora, there are forces for change in the developed world. At the Climate Action Summit, 87 major corporations including IKEA, Atlassian, Hewlett Packard, L'Oréal and Nestlé announced commitments to prevent warming above an average of 1.5°C; these companies have an estimated market cap of more than $2 trillion. Some major banks, sovereign wealth funds, and insurance companies have also begun divesting from emissions heavy projects such as coal mining amid intense public scrutiny and investor activism. As these economic pressures mount and the cost of inaction looms, developed countries may well be forced to revise their positions on climate action.
However, the future for multilateral efforts to combat climate change still appears bleak. In addition to the divide between developing and developed nations, multilateral fora remain ill-equipped and underfunded, and without the willingness of states to compromise, the organisations risk being rendered incapable of dealing with global environmental issues. Multilateral instruments, including the Paris Agreement and the UN Environment Program, lack significant institutional power and, in the case of the former, are based on aspirational goals. Domestic politics remain dominant in the climate discussion in many states, particularly developed nations.
It appears that states will continue to grapple over the economic consequences of climate action and whether it is better to pursue short-term economic growth at the cost of increased emissions or to delay action and risk a much more catastrophic climate scenario. Only time will tell whether the balance will be struck before the worst outcomes of climate change begin to be felt.
Euan Moyle
Euan serves as an editor and analyst on Australian foreign policy, the Asia-Pacific region and international institutions. He specialises in analysing Australia's political, security, diplomatic and developmental place in the Asia-Pacific region.