Le pouvoir: a rattling of the Algiers gerontocracy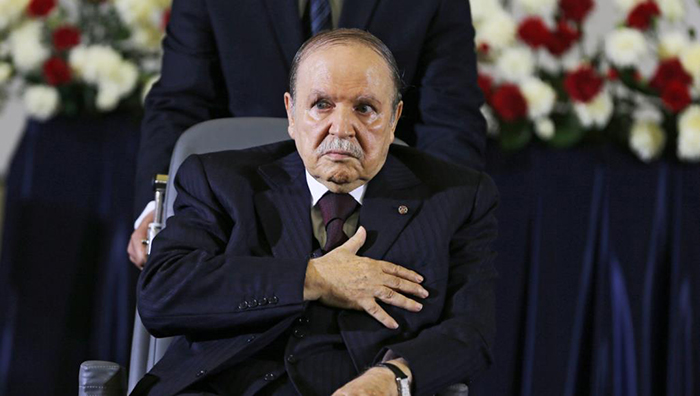 WHAT'S HAPPENING?
After mass demonstrations in protest of incumbent President Abdelaziz Bouteflika's decision to run for a fifth term in office, Bouteflika has rescinded his candidacy.
KEY INSIGHTS
– In light of Bouteflika's ailing health and reclusive lifestyle, the announcement of his candidacy incensed Algerian citizens
– The president is largely regarded as a placeholder representative for a cabal of army officers and influential business figures, collectively referred to as le pouvoir (the powers-that-be)
– With no centralised opposition figures or strong characters for succession within the ruling Front de Libération Nationale (FLN), the country's leadership future is uncertain
The Algerian protests are the largest the country has seen since independence in 1962 and mark unchartered territory for the ruling Front de Libération Nationale (FLN). The party largely managed to avoid the whirlwind of the Arab Spring through a combination of financial subsidies, housing benefits, and the deployment of Algeria's well-equipped police force. However, President Abdelaziz Bouteflika's decision to run for a fifth term sparked widespread opposition, with students, clerics, members of the state media, and the judiciary packing Algerian streets since February 22. At least 183 people have been injured and one person has died of a heart attack across demonstrations in Algiers, Oran, Constantine, and Paris, in protests that have been largely regarded as peaceful. Previous efforts to suppress the demonstrations, such as shutting down universities for two weeks by bringing the holiday term forward by ten days, strengthened demonstrators' resolve.
Bouteflika's proclamation of his presidential candidacy was the initial spark. The veteran of Algeria's independence movement has been wheelchair ridden since suffering a stroke in 2013 and is rarely seen in public. He last directly addressed the Algerian public in May 2012, and since then has opted to communicate through letters presented by his aides. Bouteflika's health has been a point of contention, with many speculating that his condition is far worse than FLN members suggest. Although Bouteflika's candidacy was filed in absentia while he was in Switzerland receiving "routine health checks", he has since withdrawn his candidacy, as declared via a letter presented by his office. Along with the cancellation of the April 18 vote, he has promised to organise a national conference under the purview of an independent presidential commission and a national referendum to rewrite the constitution.
FUEL FOR THE FIRE
Although Bouteflika's intended candidacy ignited the protests, issues concerning financial and social insecurity — particularly for Algerian youth — created combustible conditions prior to the demonstrations.
Bouteflika's long-time suspicion of the private sector and Algiers' dependency on the oil and gas industries have left Algeria's financial security vulnerable to market conditions. As a major exporter of oil and gas — two-thirds of state capital derives from the energy sector — recent drops in the national oil price have rattled the economy. Compounding this stress, non-oil exports were reduced by 25% in the first quarter of 2016 and growth in the non-hydrocarbon sector remains depressed, reflecting the poor competitiveness of internal market conditions.
Recent regulations on wholesalers and retailers, which increased the price of essential items such as sugar, oil, and flour by as much as 30%, paired with unemployment rates of 11%–22% for Algerian youth, stoked further resentment. Given that 70% of the Algerian population is aged below 30, these issues were particularly salient. Bouteflika had reportedly been hounding his financial team to find a silver bullet taxation formula to tackle the steadily creeping financial insecurities faced by Algerians, but any such efforts have yet to yield results.
The confluence of financial and social insecurities created a fertile environment for civil demonstrations prior to Bouteflika announcing his candidacy. Although the president returned early from his "routine" medical checks in Switzerland to assuage demonstrators' concerns, it was simply too little, too late. The wheelchair-ridden president, pejoratively referred to as the 'living dead' in some circles, was set as the symbol for the gerontocracy, whose leadership had come and passed. While older generations of Algerians were willing to accept stagnation and corruption as the price of stability, those marching in the streets were not.
WHO RUNS ALGERIA?
Technically, Algeria functions as a semi-presidential democracy, with Bouteflika as president and Ahmed Ouyahia as prime minister, both of whom represent the FLN. In reality, the leadership structure is much more opaque. It is generally accepted that Bouteflika acts as a placeholder representing a ruling elite of influential military and business characters commonly referred to as le pouvoir. The president's brother, Said Bouteflika, and Army Chief of Staff General Ahmed Gaïd-Salah are purported to be some of the key members of this cabal, which is known for strictly enforcing the party line. They have reportedly been considering dumping Bouteflika for some time but due to internal divisions have not been able to agree upon his successor.
THE SLOW BURNING FIRE
Although protest numbers have peaked, it is unlikely that demonstrations will conclude soon. Years of public misuse and corruption have left its mark on Algerian citizens, and civic engagement groups and human rights lawyers remain suspicious of Bouteflika and the FLN. Despite Bouteflika's rescindment of his candidacy, many demonstrators remain distrustful, and even dissatisfied, and have vowed to maintain the protests. Some take issue with the informal timeline of the national conference and question whether Bouteflika will step down at all — understandable fears for a generation that has only known the Bouteflika/FLN government throughout their lifetime. However, formal timelines take some time to formulate, and the FLN's schedule remains to be announced. Regardless, the recent protests were a new experience for the FLN; those involved will keep a watchful eye on upcoming political processes.
The development of the protests has set the stage for ongoing demonstrations. The mantra "Peaceful, Peaceful" minimised criminal or delinquent activity and helped protesters avoid being cast as security threats to internal or external media outlets. The government's window to muzzle protesters by force has likely passed so long as their emphasis on peace denies authorities justification to shut them down.
LEADERSHIP PROSPECTS
In terms of leadership, Algeria faces an uncertain future. A transitional government will be convened to manage the country throughout 2019, although details remain scarce. Prime Minister Ouyahia has resigned since Bouteflika's announcement, leaving senior statesmen Lakhdar Brahimi as the central figure in Algeria's near political future. The veteran diplomat has been appointed deputy prime minister and made responsible for overseeing the national conference, drafting Algeria's new constitution, and setting the date for the next election. Long viewed as a potential presidential candidate, Brahimi shares close ties with the president and is generally perceived as a guarantor of stability by the military. Brahimi's extensive diplomatic and international experience and emphasis of inclusivity in the transition process makes him an ideal candidate to ply the rough seas ahead.
Who will replace Bouteflika is less clear. With no formally designated successor, the FLN currently lacks a representative for the now-delayed presidential elections. Within the clique surrounding the president, Said Bouteflika and Gen. Ahmed Gaïd-Salah appear to be the frontrunners, and Said is reported to be the closest to the office. However, reports also suggest he does not enjoy the support of the military, which is essential to the position. Gen. Gaïd-Salah's extensive military background would appear to resolve this problem but his known impropriety around state funds hurts his legitimacy. Although "the most corrupt official" is not entirely ruled out as a potential presidential candidate, Gaïd-Salah's nomination could generate friction between the FLN and those in the military and citizens pushing for an end to state corruption.
Among the opposition, a number of candidates have declared their intention to run, but none appear to enjoy broad-based support and information regarding their electoral platforms remains scarce. Ali Ghediri, a former defence ministry personnel director, was the first to announce his candidacy prior to Bouteflika's decision to step down. Despite being a relatively unknown politician, recent television and newspaper interviews have bolstered his profile and his critical and outspoken nature could be an appealing trait in the election campaign. Dr. Abderrazak Makri, of the Islamist Movement of the Society of Peace (MSP) party, has also officially registered as a candidate. Algeria recognises Islam as the state religion but constitutionally mandates religious freedom; Dr Makri's candidacy will provide an interesting barometer of Algeria's willingness to embrace an Islamist, rather than a secular, president. Ghani Mahdi, a forty-eight year old journalist and critic of Bouteflika, is another to have announced his candidacy. However, besides his detainment for covering the protests in February, little is known regarding his vision for Algeria.
Financial concerns — key motivators behind the collapse of Bouteflika's rule — will be critical in the eventual election. The FLN's six-decade dominance has left little political track-record history for competing parties to run on, but it seems likely to presume that opposition candidates, particularly Ghediri (as a former party member and seemingly politically savvy candidate) will emphasise transparency and minimising corruption as part of their platform. However, the FLN will also have considerable work to do to amend their image — the party earns an abysmal 35/100 on Transparency International's Corruption Index. This will be made all the more difficult for veteran candidates, like Gaïd-Salah, who represent the old-guard that Algerians continue to protest.